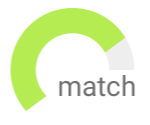 Haven't found the job you are looking for? Use our new smart new Job Match tool to find your next opportunity.
USA
Permanent
USD100,000 - USD150,000
Excellent fully remote Fund Accounting opportunity. This is a rapidly expanding Hospitality development and acquisitions firm with over 40 properties under management. This role will be within the fund accounting group.
Leading Investment Management Firm with 50+ Billion AUM
Fantastic team with growth opportunities and hybrid schedule
International
Permanent
USD100,000 - USD175,000
Amazing Senior Tax Manager opportunity at a growing firm that specializes in legal, regulatory, and business information for individuals. They cover various areas such as including tax and accounting, legal, labor and employment, banking, and intellectual properties. This role will include, but will not be limited to, helping to lead the creation of new and innovative software solutions for the corporate tax industry.
Diverse work environment and excellent company culture!
Amazing growth opportunity!