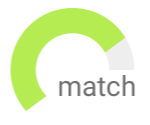 Haven't found the job you are looking for? Use our new smart new Job Match tool to find your next opportunity.
USA
Permanent
USD70,000 - USD80,000
My Client is looking for a motivated sales professional to assist in the creation of new relationships within a determined market segment. You will be responsible for identifying, developing, and closing new agreements with prospective customers.
Fully Remote
International Company
Using all relevant internal data feeds and channel opportunities the Business Development Executive will devise a proactive strategy that creates new opportunities for Page Outsourcing.
Page Outsourcing is one of the fastest growing global Outsourced providers
A career with PageGroup
The Senior Account Manager, Sport will manage a range of Sport Sector's commercial partnerships, and work and collaborate with internal stakeholders to identify specific needs of other sectors and ensure successful delivery of the partnerships against their KPIs. Sport partnerships are a key pillar and will play a strong role in talent development and brand recognition.
You will be working on one of the Giga projects in Saudi Arabia
Managing all current and new sports partnerships
USA
Permanent
USD50,000 - USD55,000
As an Enterprise BDR, you'll be a key player in my client's strategy to connect with hiring organizations looking to grow their workforce. You'll impact the bottom line by generating opportunities and partnering with Account Executives to win deals. Success in this role means hitting and exceeding monthly goals, staying ahead of daily metrics, and handling rejection in stride, all with the support of experienced managers in a team-focused environment.
Join a fast growing SaaS company with lots of opportunities for career growth
Great benefits (including equity)
International
Permanent
USD17,696 - USD19,057
An exceptional opportunity to join a leading Leisure & Hospitality Group as Deputy CEO, to directly oversee the operation of designated divisions and support services ensuring profit contribution to the Group is maximised.


Are you a Bahraini national looking to join a leading Leisure&Hospitality group?
Do you have a proven track record in success?
International
Permanent
USD19,057 - USD21,780 per month (USD228,694 - USD261,364)
A truly exciting senior opportunity, reporting into the Global VP and responsible for the growth and development of this Global luxury retail Business' regional expansion


Are you a senior retail business development specialist?
Do you have proven track record in expanding retail footprint?
USA
Permanent
USD75,000 - USD95,000
Are you looking for a role at a leading organization within the EDI space?
Are you prepared to use a diversified skill-set within a fast-paced, rapidly growing environment?
Join a fast-paced organization within the EDI space
Develop and employ customer success skills in an award-winning company
International
Permanent
USD75,000 - USD90,000
Account Manager will report directly to the Sales Manager. This role will be building out the New England Territory and building strong relationships with key clients by selling customized rigid packaging solutions.
Well established Packaging company
Join a dynamic and continuously growing company
International
Permanent
USD55,000 - USD85,000
The role of the Estimator will be to support the Account Executive/Busniness Development Represntatives in winning new work. You will accompany the AE on intial project reviews with architects and prospective clients, and then work with the sales, production, and finance team during the bid process to win the job.
Opportunity to work fully remote
Growing company with high end projects
The Business Unit Manager is responsible for business results (bookings, sales and EBITDA objectives). The scope of this position includes: leadership of a cross functional business unit team (sales, operations, engineering, quality), contract review & negotiation, new business generation, proposal preparation, bookings (orders), Profit and Loss accountability, developing and maintaining customer relationships.
Are you seeking a hands-on & fast paced opportunity?
Potential for growth and ability to "own" your role
Create job alert to receive Sales jobs via email the minute they become available
International
Permanent
USD95,000 - USD130,000
The candidate will act with quality, manufacturing and sales teams to create or improve product technology and develop protocols to develop a product to hit the market. The opportunity will present the proper R&D Engineer with the ability to design and develop new technology for new or existing products.
GREAT BENEFITS with a Medical Device company making a DIFFERENCE
Growth opportunity with the beginning stages of a top of the line technology