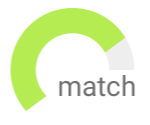 Haven't found the job you are looking for? Use our new smart new Job Match tool to find your next opportunity.
USA
Permanent
USD70,000 - USD80,000
My Client is looking for a motivated sales professional to assist in the creation of new relationships within a determined market segment. You will be responsible for identifying, developing, and closing new agreements with prospective customers.
Fully Remote
International Company
Michigan
Permanent
USD100,000 - USD110,000
Looking for a sales professional in the Injection Molding Machinery and Robotic Equipment industry. The Regional Sales Manager will be in charge of managing organizational sales by developing business plans, meeting planned goals, customer presentations and lead generation.
Established Company
Existing Territory in Place
Troy
Permanent
USD120,000 - USD145,000
The Business Development Manager - Automotive will be developing and maintaining customer relationships with automotive OEMs to security new business and maximize current customer relationships. This person can work from a home office remotely anywhere in the Greater Detroit area.
Global Automotive Supplier focused on Growth and R&D
Remote home based role
Farmington Hills
Permanent
USD150,000 - USD170,000
The Automotive Sales Director - Automation Systems opportunity is a highly visible role reporting to the Global Head of Sales based in Europe. This person will lead a team of Sales professionals in the US and work with the Global Head of Sales and executive leadership team to define and execute the US sales strategy. This person should be located in the Metro Detroit area preferrable, or near a Major Airport - Midwest Region preferred.
Global Leader in Automation Systems
Highly Visible Sales Leadership role building a team
USA
Permanent
USD50,000 - USD55,000
As an Enterprise BDR, you'll be a key player in my client's strategy to connect with hiring organizations looking to grow their workforce. You'll impact the bottom line by generating opportunities and partnering with Account Executives to win deals. Success in this role means hitting and exceeding monthly goals, staying ahead of daily metrics, and handling rejection in stride, all with the support of experienced managers in a team-focused environment.
Join a fast growing SaaS company with lots of opportunities for career growth
Great benefits (including equity)
USA
Permanent
USD75,000 - USD95,000
Are you looking for a role at a leading organization within the EDI space?
Are you prepared to use a diversified skill-set within a fast-paced, rapidly growing environment?
Join a fast-paced organization within the EDI space
Develop and employ customer success skills in an award-winning company
Detroit
Permanent
USD110,000 - USD150,000
The Key Account Manager Business Development - EVs will be responsible for business development and account management focusing on the EV OEMs such as Telsa, Canoo, Faraday Future, Lucid, Apple and other West Coast EV OEMs.
Home based role with growing global Tier 1 Automotive Supplier
Focus on Electric Vehicle OEMs
The Business Development Manager is responsible for identifying business opportunities, building and maintaining successful relationships with prospects and existing clients, collaborating with executives on business strategy to determine objectives, evaluating current business performance and maximizing business reach and potential.
The BDM is the main point of contact for customers at the Tiers and OEMs for their assigned accounts.
Join a North American market leader in the Automotive textile space
Great global company culture - opportunities to work internationally
Troy
Permanent
USD130,000 - USD165,000
The Key Account Manager Business Development - Automotive will be responsible for business development and account management for a defined set of OEM and Tier customers. This person will have a heavy focus on developing new business within e-mobility applications.
Exceptional Bonus and Benefits
Focus on E-Mobility applications
Rochester
Permanent
USD110,000 - USD135,000
The Product Engineer will work with OEM customers directly as the face of the company to manage the design, development and launch phases. This person will be the point person in charge of all customer interfacing regarding technical specifications, timelines and will work closely with the internal sales and design engineering teams in the US and Globally.
Innovative Automotive Supplier in High Growth Mode
Immediate Healthcare Benefits