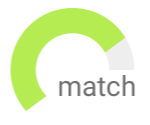 Haven't found the job you are looking for? Use our new smart new Job Match tool to find your next opportunity.
The Vice President, North America Logistics Operations is responsible for providing leadership, developing strategic direction, and overseeing execution and implementation on all aspects of Operations, Logistics and Supply Chain within pharmaceutical industry. The primary mission is to ensure commitments to customers are met by providing high quality products, on-time and to meet service requirements.


Market leading pharmaceutical manufacturing organization
Opportunity to join a growing organization
Our client is currently looking for an experienced individual to serve as the Logistics Specialist - Rail. In this role, you will be joining a team of Logistics professionals to assist with the asset management and administrative responsibilities of a fleet of over 1500 rail cars. You will also work very closely with a network of domestic and international logistics service providers.
Position with responsibility for a large fleet of rail cars
Opportunities for career growth and personal development
New York
Temporary
USD51,996 - USD58,235
This is a global wine importer looking for a Logistics Coordinator to be in charge of handling all receiving processes, working directly with freight forwarders, customs brokers, warehouses and the Purchasing Team to ensure timely and accurate inbounds. This is a contract position with the potential for full-time hire.
Contract to Hire Opportunity
Must be Local to the Greater New York Area
Naperville
Permanent
USD45,000 - USD60,000
Our client for the Shipping & Receiving Coordinator opportunity is a manufacturer specializing in commercial and residential acoustic applications. They have been around for over 30 years and are going through positive sweeping changes and is looking for someone to help drive the business to the next level. They are looking for someone who has a entrepreneurial mindset with manufacturing experience.
Fast Growing Manufacturer expected to double in size within 3-5 years
Manufacturing industry experience required
Northbrook
Permanent
USD85,000 - USD105,000
Do you work within Public Accounting and have a desire to apply your background to the corporate space? I am working on a fully remote opportunity right outside of Chicago, IL that will allow you to gain global exposure, transition into Corporate Accounting, and utilize your experience within a high impact role, ensuring all financial statements are reported in a timely and accurate matter!
Leading global wholesale company
Fully remote opportunity
Lead sourcing and process optimization initiatives to optimize the client's spend in Logistics related categories including Transportation (Small Parcel, Air, Ocean), 3rd party logistics, warehousing services, LTL and TL.
BS/BA degree in relevant areas such as supply chain, business or STEM required
MBA and other relevant degree /certification (e.g., ISM CPSM) highly desirable
As the IT Solutions Architect, you will be a subject matter expert and focus on assigned solution areas. Be a technical leader and offer strategic leadership while executing on technical development, integration, and product implementation projects.
Remote Opportunity
Fast Growing Team & Global Organization!
The Director, Supply Chain Solution & Design responsible for leading the development of processes to develop distribution solutions, communicate Supply Chain Solutions strategies, and ensure solutions developed by the group are aligned with organizational growth strategies. You will be responsible for overseeing business and project development to ensure the implementation and deployment strategy is aligned with stakeholder requirements.
Global, market leading logistics organization
Excellent opportunity for career advancement
Oakbrook Terrace
Permanent
USD75,000 - USD105,000
Project Manager for a Real Estate Developer that focuses on ground up projects across the United States. Construction project focus includes: commercial, retail, and public work.
Based in Oakbrook, IL - open to being remote
Project Manager for a Real Estate Developer
Columbus
Permanent
USD90,000 - USD110,000
Urgent need for an individual interested in luxury finished, occupied builds, and car dealership, automotive builds. This individual must be expereince in retail or big box stores, and enjoy being customer facing.
Leadership Growth Potential
Work From Home Opportunities
Create job alert to receive Transport Distribution jobs via email the minute they become available
In office temp to perm position at a Global Logistics company. This role is in office every day, you must be vaccinated in order to be considered for this role.
True temp to perm opportunity at a Global Logistics company
This position is entirely in office in the Financial District of Manhattan
The Marketing Planner works with the sales leadership team and the outsourced CMO to execute strategies to consistently strengthen and deliver the company brand internally and externally. Utilizing social media, Web analytics, email marketing, CRM, trade show organization and participation, industry-specific lead generation tools among others.
True temp to perm opportunity at a Global Logistics company
This position is entirely in office in the Financial District of Manhattan
Glenview
Permanent
USD95,000 - USD125,000
Estimator for a Construction General Contractor that focuses on healthcare, federal/government, higher education, light industrial, multifamily, and commercial construction projects throughout the Chicagoland area.
Based in Glenview, IL
Estimator for a Construction General Contractor