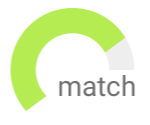 Haven't found the job you are looking for? Use our new smart new Job Match tool to find your next opportunity.
The Global Legal IP & Franchise Director will be responsible for ensuring the successful growth and development of the franchise business and managing the growing trademark global portfolio
Ensuring the successful growth and development of the franchise business.
Managing the growing trademark global portfolio
Manhattan
Permanent
USD95,000 - USD110,000
The Senior Accountant will have primary day-to-day responsibility for production of financial statements, financial statements maintenance of an adequate system of accounting records and a comprehensive set of controls. The successful candidate will report directly to the Assistant Controller and Director.
Competitive Salary
Growth Opportunities
New York
Permanent
USD150,000 - USD160,000
This understated luxury French brand, which is being re-imagined by a new creative director, is a staple in the luxury fashion community. In business for over 100 years, this company is constantly re-imagining what's possible within the luxury goods space.
Be a part of history with a world-renown luxury brand.
Amazing employee benefits!
Arkansas
Permanent
USD120,000 - USD130,000
The Senior Procurement Manager - SRM & Risk Management will support the Senior Director - Strategic Sourcing in developing and implementing the International Indirect Spend Management (ISM) plan inclusive of a variety of Strategic Programs across multiple International markets. Build partnerships and support these markets to implement best practices to advance and enhance strategic sourcing capabilities.
Highly strategic role with a Global leader in its field
Lead role involving cross-functional collaboration with local and global teams
Jersey City
Permanent
USD140,000 - USD155,000
The HR Senior Manager, Client Services Center supports the business with a wide variety of duties throughout the employee life cycle with confidentially and tact being paramount. The HR Senior Manager will demonstrate a strong executive presence with strong initiative, independent judgment and possess strong analytic and organizational skills as this role will work closely with the Director, Client Services Center and Corporate Partners.
Work with an Iconic Luxury Goods brand spearheading internal employee support.
Leadership functions to develop employees via growth opportunities & succession
New York
Permanent
USD125,000 - USD175,000
The Marketing Director will help develop and implement the 360-marketing strategy in America's region for a global denim brand. The Director will aim to drive brand desirability and awareness by leading local execution of all marketing programs.
Career progression opportunities
Opportunity to work with a global retail company
Willowbrook
Permanent
USD55,000 - USD70,000
Becoming an intricate part of the project management team, the Construction Project Coordinator will be responsible for providing administrative support to the director of construction and project management team through construction completion and closeout as well as some potential property management responsibilities.
Progression within the company
Opportunity to learn different skills within construction and development