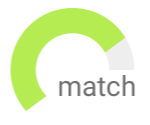 Haven't found the job you are looking for? Use our new smart new Job Match tool to find your next opportunity.
Philadelphia
Permanent
USD65,000 - USD75,000
The Staff Accountant role will be integral in supporting the Senior Accountants by establishing financial controls within their assigned portfolio. Completing monthly/quarterly-end-close duties will be paramount in this position.
Fun and professional office and atmosphere
Great growth potential
Manhattan
Temporary
USD62,395 - USD72,794
A part-time accountant role for a software company. Role will include accounts payable, billing, and invoice functions and participating in projects as needed.
Temp to perm, part-time accountant for a software company in NYC
Excellent compensation for a part-time role
Manhattan
Temporary
USD72,794 - USD83,193
Our client - well known Software company based in Manhattan - are looking for an Accountant to join the team on a part-time basis (24 hours/week). The salary will be prorated.
Well known Software company based in Manhattan
Are looking for a part-time Accountant
New York
Permanent
USD90,000 - USD115,000
Amazing Working Environment
Good work/Life Balance
Technology company
Great company environment
Waltham
Permanent
USD55,000 - USD65,000
Would you like to be a key part of an Accounting team and be responsible for A/R and A/P functions? Would you like to work for a medium-sized enterprise with the opportunity to grow and progress your Finance career long term? Have you used QuickBooks Accounting software before? If so, please apply to the Staff Accountant - Technology position for further consideration.
Manage Accounting Operations for A/R, A/P and G/L - Hybrid Work Schedule
Located near Waltham MA - Immediate Hiring Need - April 2022
New York
Permanent
USD120,000 - USD135,000
Amazing Working Environment
Good work/Life Balance
Technology company
A great place for growth
Boston
Permanent
USD90,000 - USD110,000
In the role of the Senior Accountant you will be responsible for general accounting, forecasting and budgeting. You will need to work efficiently to ensure accurate financial reporting is completed in a timely matter for the organization.


Opportunity to grow into a more senior role within the company!
I.T. Education company with a large network of top Universities!
Chicago
Permanent
USD165,000 - USD195,000
This candidate will help us architect and build our next generation services for financial markets. This person will be involved in all aspects of software development, from architecture to design, coding, testing, and performance tuning.
Flexible working and growth options for a Fortune 500 Financial Markets Firm
Collaborative and supportive agile working environment in Chicago, IL
Newton
Permanent
USD55,000 - USD65,000
Our client - an industry leader in information technology used in various daily activities in the commercial and enterprise space - is looking for a Staff Accountant to grow with their team! The role consists of general accounting responsibilities such as: A/R, A/P and General Ledger work.
Fantastic Opportunity for someone looking to grow into a more Senior role!
Generous compensation package!
Boston
Permanent
USD70,000 - USD100,000
Are you looking for your next Accounting opportunity as a Senior Accountant with a Start Up SaaS company? Do you have 2+ years of experience within Accounting in the Saas industry? Do you have Start Up experience? Have you worked with NetSuite? Do you want to work for a growing company? If so, please apply to the Senior Accountant- SaaS position for further consideration based near Boston, MA.
Join a Start Up Company with the opportunity to work remote
Competitive Base Salary
Create job alert to receive Accounting jobs via email the minute they become available
Bloomfield
Permanent
USD75,000 - USD160,000
The Financial Reporting Manager is primarily responsible for the preparation of the Company's filings with the SEC and the management of various elements of internal and external reporting.
Hybrid working - 2 days a week
Rapidly Growing Accounting Department - Has Doubled in Size in 2 years!
Chicago
Permanent
USD75,000 - USD95,000
The Sr Analyst will have their hand in fp&a, budgeting, forecasting, building short-term and long-term models and presentations to provide decision support for key business initiatives. The position is expected to understand controls and processes and provide continuous improvement.
Supporting leadership that invests in your continued development
Highly acquisitive and fast growing company
Holmdel
Permanent
USD120,000 - USD155,000
Great opportunity for a Senior Finance Manager candidate to join a growing team within a global organization. Full P&L ownership for a handful of established commercial relationships.
Global Tier 1 Telecom Client
Looking for great Finance candidates who want to climb the ladder
Englewood
Permanent
USD60,000 - USD65,000
This role will focus on accounts payable and payroll.
Great opportunity with a financial technology firm.
Strong work life balance
USA
Permanent
USD150,000 - USD170,000
Michael Page is partnered with a tech / Higher Education start up HQ'd on the East Coast to assist in the hiring of a Director / VP of Finance. The role will suit finance professionals with around 10 years experience with a CPA.
Opportunity to build a finance function for an innovative start up
Equity and bonus available
Massachusetts
Permanent
USD90,000 - USD125,000
In this exciting REMOTE position, you will be responsible for project management, process development, and coordination of activities. The primary areas you will be responsible for include finance, accounting, manufacturing, operations, and IT.
An exciting REMOTE opportunity and a great time to join this growing company!
Project management candidates with cross functional experience apply now!
Team of developers and CPAs who believe that the future of finance is global, open, and powered by blockchain. Their cutting edge software simplifies payments and accounting for global businesses.
FinTech Cryptocurrency Company
Organic Growth based on performance