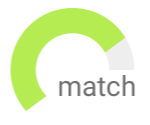 Haven't found the job you are looking for? Use our new smart new Job Match tool to find your next opportunity.
Amazing Fund Accountant opportunity working within a smaller, closed-knit team at a growing privately held alternative investment firm. This role will include, but not limited to, PE fund accounting.
Exciting opportunity to work at a firm with over 40 trillion in assets!
Lots of opportunity for growth in this fast-paced environment!
Prepare full-service financial statements for assigned properties including, but not limited to, general ledger journal entries, balance sheet reports, bank reconciliations, profit and loss statements, budget vs. actual reports, and month-end accounting
Guaranteed career progression opportunities!
Beautiful office space that is pet friendly!
Fund Accounting for Private Equity funds
Work with leading private equity and alternative asset management clients
Opportunity to be challenged and grow within a fast-paced environment
Dallas
Permanent
USD70,000 - USD85,000


Duties of the Accounting Supervisor-Controller will include managing accounting records, evaluating, and managing risk, ensuring compliance with regulations, publishing financial statements, overseeing accounting operations, analyzing financial data, monitoring expenditure, forecasting, coordinating auditing processes, and ensuring accuracy of financial information.
Newly created position within accounting area.
Company has recently gone through merger, in full expansion mode.
Drive both top line revenue growth and profitable business opportunities through cross sell and upsell activities.
 Responsible to lead both the tactical and strategic business activities
Drive both top line revenue growth and profitable business opportunities
Houston
Permanent
USD100,000 - USD140,000
The role will report directly into the CFO, and will span all parts of finance, accounting, and operations.

It will focus on the financial reporting & accounting side of real estate, including preparing and reviewing financial statements for properties, preparing consolidated financials, and financial reporting.


Value-add multifamily investor located in Houston, Texas.
Boutique in full expansion mode, in search of new talent.
Austin
Permanent
USD100,000 - USD130,000
Our client is looking to identify a controller for a real estate firm in Austin, TX!
Top-tiered Real Estate Firm
Lifelong career-low turnover within company
Work with the Fund Reporting team to document, oversee, and execute processes related to the management, oversight, and production of the annual and semiannual financial reports and related audits conducted, with a primary focus on regulatory filings and collaborate closely with Fund Accounting, and internal and external groups for the ongoing management of the funds.


Competitive compensation with Globally Recognized Financial Services firm
Opportunity for growth in well established firm