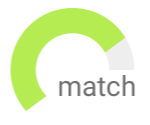 Haven't found the job you are looking for? Use our new smart new Job Match tool to find your next opportunity.
New York
Temporary
USD45,756 - USD49,916
Work a four month contract as an Administrative Assistant providing assistance with coordination, sales, and research.
4 Month Contract - Fully Remote
Work closely along the Language Services Team
New York
Temporary
USD64,475 - USD66,554
This opportunity is helping support the New York office to build a team to ensure administrative and office support. Working five days a week in office with small team.
The opportunity to work for a well established global company.
In person position.
New York
Temporary
USD47,836 - USD51,996
Assist with work overflow as the Administrative Assistant for a well established law firm in NYC. This role requires someone who can work independently with little guidelines who will take initiative when getting work done.
Work an administrative position within a Law Firm
Hours require in office five days a week from 12pm to 8 pm.
This Legal Administrative Assistant position is at a small, family-owned law firm. This position is for an eager fre sh-gra d that is looking to get into the legal space, learn and grow. This opportunity has extensive growth opportunities with great training and management.
This role is in the office in Suwanee, GA and is supporting the founding attorney with administrative tasks.
Contract to hire opportunity at family owned law firm in Suwanee, GA
Opportunity for extensive growth and development with great training
International
Permanent
USD29,117 - USD31,197
Our client, located in Arlington, is seeking a Receptionist/Administrative Assistant to join its growing team on a contract to hire basis.
Seeking a Receptionist/Administrative Assistant - Contract to Hire
Growing Firm in Arlington