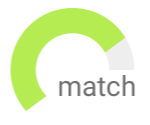 Haven't found the job you are looking for? Use our new smart new Job Match tool to find your next opportunity.
New York
Permanent
USD50,000 - USD55,000
The Communication Assistant will report directly to the CCO and CMO to provide administrative support to the Communications Department for a widely known not for profit organization located in New York City and Washington D.C.
Please note this job has an opening in New York City and Washington D.C.
In office 3 days a week.
Yonkers
Temporary
USD31,197 - USD51,996
The organization is looking for an eager individual to take on administrative tasks. This will be a temporary contract role able to be available immediately.
Opportunity to Start Professional Career & Grow Work Experience
Great work environment with benefits provided
New York
Temporary
USD45,756 - USD51,996
Administrative Assistant supporting two Rabbi's within a large nonprofit within the New York City.
Hybrid in office and work from home opportunity.
Nonprofit organization.
New York
Temporary
USD60,000 - USD65,000
Work in a fast paced environment that is extremely dead line driven. Seeking an individual who is professional across all forms of communication and confident on the phones.
Seeking an experienced Administrative Assistant to assist Communications team.
Previous experience working in Professional Services is necessary.
New York
Temporary
USD60,000 - USD650,000
Support the VP of Communications within a Non-Profit Organization. The duties include an array of administrative tasks.
Hybrid work schedule that is temp to perm based off of performance
Seeking an Administrative Assistance with 3-4 years experience
Washington
Temporary
USD41,596 - USD51,996
Seeking a Communications Assistant to support the Director of Marketing and Communications at a leading non-profit organization. This role can be located in the Greater NYC or DC areas on a hybrid schedule (relocation is not available). This is a contract 6 month assignment, with the potential for a long-term opportunity.Candidate & applicants should be immediately available to begin.
6 months with the potential for permanency!
Must be located in NYC or DC areas
Yonkers
Temporary
USD31,197 - USD51,996
Our client is a nonprofit organization, located in Yonkers. They are seeking an Accounting Assistant ASAP to handle administrative responsibilities. This role is 100% in office, and requires candidates to be fully vaccinated.
Opportunity to Start Professional Career & Grow Work Experience
ASAP Start Date with Medical Benefits Provided
New York
Temporary
USD41,596 - USD51,996
Provide Administrative support to assist a Non Profit Organization run smoothly and organized. Must be located in NYC or willing to commute in Monday through Friday.
Become part of a Non Profit Organization by providing Administrative support.
Must be willing to be in office 5x week.
Manhattan
Temporary
USD51,996 - USD62,395
As the HR specialist your role will be to be a point of contact for assigned programs. It will involve generalists tasks on a more junior level providing support to the current HR dept.
Hybrid Role - Based in New York
Contracted Role covering an employee on leave
Manhattan
Permanent
USD45 - USD48
A Upper West Side school is seeking an Administrative Assistant to support their school, faculty, parents, and executives. They are seeking a reliable, team player candidate, whose mission aligns with their own. This is a direct hire opportunity and qualified applicants must be fully vaccinated and able to commute to Manhattan Monday to Friday. The hours are 7:45AM to 3:45PM.


Must be vaccinated to work in New York City
Location: Upper West Side
Create job alert to receive Assistant jobs via email the minute they become available
New York
Temporary
USD43,676 - USD47,836
Administrative, communicative and logistical service support for the Director Of Education. This is a hybrid role, one day a week is remote.
Opportunity to work hybrid.
New York City
Executive Assistant to the President of a Non-Profit organization based in the East Village. This role is in office Monday - Friday from 9 - 5 and has the potential to convert from contract to permanent based on their performance and skill sets.
Full-time contract to hire position on site in Manhattan at reputable University
Supporting President's office - 5 years of experience preferred
New York
Temporary
USD62,395 - USD70,714
Provide exceptional executive assistance to CMO who is based out of Orlando, FL. This is a company who is a non-profit geared towards education.
Fully remote Executive Assistant Opportunity to CMO
Must be in the Greater New York City area or Orlando, FL