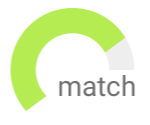 Haven't found the job you are looking for? Use our new smart new Job Match tool to find your next opportunity.
Bridgewater
Permanent
USD70,000 - USD85,000
Opportunity to work with a well know General Contractor in Bridgewater Township, New Jersey as a Junior Estimator, assisting the pre-construction team
Competitive salary
Bonus structure
Bridgewater
Permanent
USD90,000 - USD100,000
Our client is seeking a Manufacturing Quality Engineer to join their growing team in Bridgewater. This will be a position with leadership and growth opportunities.
Join a Growing Medical Device Manufacturer!
Industry leader in Orthapedic Implants
Bridgewater
Permanent
USD75,000 - USD100,000
Michael Page is partnered with one of the Greater Boston Area's Top General Contractors that has a strong hold on Boston's Lab & Life Science market. With a solid pipeline of work ahead, they are seeking an Assistant Project Manager to join their team.
Join one of Boston's most reputable GCs on complex life science projects!
Competitive base salary, bonus, car allowance, 3+ weeks PTO & more!
Bridgewater
Permanent
USD110,000 - USD120,000
The internal audit lead will be expected to be able to communicate findings to upper management, assisting in making accurate recommendations, and following up on action plan implementation.
Leading on-sight audit engagements for 3 weeks at a time, using findings to mitigate risk and report updates back to head of internal audit.
Ability to work on a hybrid capacity in Somerset County area of Bridgewater, New Jersey
Opportunity to travel the world on company paid work trips
Tremendous opportunity for Internal Growth
Bridgewater
Permanent
USD80,000 - USD135,000
Mid-Size General Contractor based on the South Shore of Massachusetts seeks savvy Estimator with Commercial Construction experience to join their thriving team!
Industry Leader
Growth Opportunity
Bridgewater
Permanent
USD90,000 - USD120,000
Our client is looking for an innovative, creative and resourceful; skilled in identifying and solving problems. They will be a self-starter, self-initiated, highly motivated, a team player, and willing to participate cross-functionally. They must be an excellent communicator, both written and verbally. He/She must be willing to do whatever it takes to achieve goals and objectives.
Leadership opportunity with Terrific Growth Opportunity
Company is in a terrific spot due to recent product launch
Bridgewater
Permanent
USD75,000 - USD95,000
Michael Page has partnered with a family-owned General Contractor that has been in business for over 20 years. They offer design-build, ground-up construction, and tenant improvement services for local companies and are looking to add a strong Project Manager to their team. Please apply within for immediate consideration.
Hold a valuable role with one of MA's most highly regarded GCs!
Competitive pay, great benefits, & unlimited opportunity for growth/advancement!