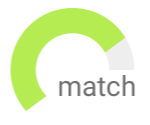 Haven't found the job you are looking for? Use our new smart new Job Match tool to find your next opportunity.
Burlington
Permanent
USD130,000 - USD140,000
In this exciting role as Service Business Manager, you will be responsible for field services across the United States as well as Global services for the business. This is a very strategic role where you will lead a team to execute on business plans and achieve growth.
Exciting opportunity to lead, manage, and grow a business.
This is a high visibility role with a well know and highly respected company.
Burlington
Temporary
USD51,996 - USD62,395
Our client, located in Burlington, is seeking an Administrative Assistant to join its growing team: contract to hire.
Seeking an Administrative Assistant
Growing Firm in Burlington, MA
South Brunswick
Permanent
USD150,000 - USD165,000
The Regional Controller will lead a full and growing manufacturing business unit, and will oversee multiple distribution channels within the North American business unit. The Regional Controller will lead a team effectively while working cross functionally with other parts of the distribution firm. This role will oversee all manufacturing processes, distribution finance, long term financial planning, and international reporting structure/process. This role is open due to growth, and will sit in the South Brunswick NJ area.
Exciting growth opportunity
Dynamic work environment
Framingham
Permanent
USD100,000 - USD160,000
Oversee the design and construction process of a building project, monitor the progress of the process, making sure it's on track. Manager might typically develop, organize, and review building plans, ensuring that a project meets all safety and environmental standards.
In-House Design Team for one of the Top Design/Build Firms in the US
Benefits: 1 month of paid sabbatical + $5k, Lucrative annual bonus's offered
Lowell
Permanent
USD120,000 - USD140,000
The Sr. Supply Chain Planning Manager is an inspiring, hands-on leader responsible for aligning strategy, execute plans and deliver measurable results to support business growth, service levels, and profitability. The role coordinates, organizes, and oversees supply chain end-to-end processes from sourcing, planning, production, logistics and distribution of the company's goods.
Directly support business growth, overall service, and profitability
Work on medically based nutrition therapies for serious medical disorders