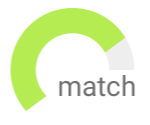 Haven't found the job you are looking for? Use our new smart new Job Match tool to find your next opportunity.
Franklin
Permanent
USD115,000 - USD120,000
In this role, you will develop, revamp, and implement new processes. You will ensure that PO's are placed on time and will support production, new product introduction, and inventory goals.
A great role for someone tactical who likes to implement new processes!
Apply to this role if you are looking for the next step up in your Buyer career.
Sturbridge
Permanent
USD80,000 - USD85,000
Through bidding, negotiation, and supplier management, you will obtain top of the line products and services for customers. In this role you will ensure that all buying processes are being designed carefully and efficiently.
This exciting opportunity is perfect for a Buyer looking to grow their career.
Work for a mission driven company improving the lives of people across the world
Lynn
Permanent
USD65,000 - USD75,000
In this role you will be responsible for managing and maintaining work orders and production schedules. You will also be in charge of purchasing direct and indirect materials and contracted services for manufactured components.
Have the chance to work for a world class manufacturing facility.
Get the chance to work with multiple teams like production, engineering, etc.
Schaumburg
Permanent
USD65,000 - USD80,000
My client is a global co-manufacturer that operates within various industries including automotive, medical, industrial and enterprise. They are a fast-paced company and are growing exponentially. They have 10 manufacturing locations globally within 9 different countries. This is a global company that is growing exponentially.
Highly autonomous role with a growing company
Ability to learn various industries; automotive, healthcare, industrial etc.
Buffalo Grove
Permanent
USD60,000 - USD90,000
This position located in Buffalo Grove is responsible for supporting the top line sales growth strategy, vendor collaboration and partnerships, new brand and product launches, and marketing priorities and promotions for assigned category. The ideal candidate will support the category assortment strategy by utilizing weekly reporting and data analysis to evaluate and drive merchandising action in collaboration with the category buyer.
Terrific opportunity for growth
Competitive Compensation Package
Kenosha
Permanent
USD70,000 - USD75,000
The Senior Buyer is responsible for coordinating the timely procurement of inventory production materials, components, supplies, and services essential to the operation of the company at the required quantity and quality at the most economical costs.
Rapidly growing company with great opportunity for career growth
High visibility role with direct access to senior leadership
Stonington
Permanent
USD65,000 - USD75,000
The Buyer is responsible for reviewing demand and procuring parts to meet production requirements. Places purchase orders with suppliers and maintains item master data in the ERP system (including price, lead time, order quantity, safety stock). Works with production, engineering, scheduling, and shipping / receiving to optimize the supply chain process.
Experience with quoting, purchase orders, strategic planning, tactical?
Experience within an engineered component/manufacturing environment?
Libertyville
Permanent
USD70,000 - USD90,000
Our client is looking for a Senior Buyer - Manufacturing - Chicago Northern Suburbs will lead projects and initiatives with broad scope and high impact to the business. This role is primarily responsible for tactical procurement and demand planning activities exercising business judgment to execute a comprehensive purchasing strategy resulting in superior cost, quality, and availability.
Fast growing manufacturing company
Ample room to grow and develop within the organization
Lexington
Permanent
USD80,000 - USD110,000
This buyer will work with the engineering and production teams to purchase components and materials needed to make this life saving medical device. They will be responsible for identifying and working with key vendors, and assist in planning purchasing needs.
Great growth opportunity at an exciting startup
Work with manufacturing to create an innovative medical device
Franklin
Permanent
USD130,000 - USD150,000
In this role as Senior Purchasing Manager, you will lead a team of 10 Buyers. You will oversee all PO's and will ensure material availability across the organization.
A key role where you will scale the business and help grow the company
You will lead a highly motivated team and interface with cross functional teams
Create job alert to receive Buyer jobs via email the minute they become available
Danbury
Permanent
USD85,000 - USD95,000
The Sales Manager is responsible for promoting the client's products to potential buyers, executing the full sales cycle from lead generation to securing customer purchase orders to after sales customer care.
Experience generating sales leads through continuous outreach?
Knowledge of energy storage technology and temporary power?
Downers Grove
Permanent
USD90,000 - USD115,000
Your primary role as the Senior Buyer - Direct Materials is to manage direct materials sourcing projects, such as requests for proposal, requests for quote, analytical projects, and negotiations. The right candidate will be a strong collaborator with excellent relationship-building skills, analytic mindset, and a solid understanding of procurement and strategic sourcing.
Ability to make an immediate impact with a large global manufacturer
Great benefits - Tuition Reimbursement, 10% 401k match