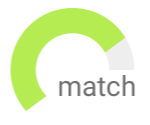 Haven't found the job you are looking for? Use our new smart new Job Match tool to find your next opportunity.
Anaheim
Permanent
USD70,000 - USD75,000
Job includes the procurement and timely delivery of resources, equipment, supplied, products, components, and raw materials needed to meet the objectives of the business at the best total cost and quality.
Excellent Growth Opportunity with Food & Beverage Company
Fast-paced environment within stable company with outstanding financial backing
Jersey City
Temporary
USD60,000 - USD70,000
responsible for assisting the purchase of supplies, equipment and purchased services with the goal and focus on quality, availability, and cost that afford the best products at the lowest cost by adhering to the agreed upon contracts (including GPO or local contracts).
Contract Opportunity
HealthCare Industry!
Dallas
Permanent
USD55,000 - USD60,000
Coordinates activities involved with procuring goods and services such as raw materials, packaging materials, MRO, and machinery for the organization.
Opportunity to join a market leader in the CPG industry
Opportunities for career growth and personal development
Sturbridge
Permanent
USD80,000 - USD85,000
Through bidding, negotiation, and supplier management, you will obtain top of the line products and services for customers. In this role you will ensure that all buying processes are being designed carefully and efficiently.
This exciting opportunity is perfect for a Buyer looking to grow their career.
Work for a mission driven company improving the lives of people across the world
New York
Permanent
USD70,000 - USD80,000
This position is responsible for supporting the top line sales growth strategy, vendor collaboration and partnerships, new brand and product launches, and marketing priorities and promotions for assigned category. The ideal candidate will support the category assortment strategy by utilizing weekly reporting and data analysis to evaluate and drive merchandising action in collaboration with the category buyer.
One of the Largest and Fastest Online Retailers!
Hybrid Schedule
Dallas
Permanent
USD75,000 - USD80,000
The Senior Buyer - Raw Materials will be responsible for coordinating all activities involved with procuring goods such as raw materials for the organization by performing various activities including but not limited to vendor management, cross functional collaboration, supplier development and new vendor sourcing.
Strategic Sourcing position with a Global Manufacturer
Clear career growth path
Manhattan
Permanent
USD120,000 - USD130,000
This Sourcing Expert will be resposible for supporting a broad range of the company's order fulfillment and buying needs across Technology (hardware, software, telecom and cloud) as well as Professional Corporate Services with a focus on HR, travel, logistics, facilities and global operations.
Flexible Working
Competitive Compensation Package