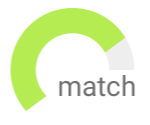 Haven't found the job you are looking for? Use our new smart new Job Match tool to find your next opportunity.
Commerce
Permanent
USD65,000 - USD73,000
The Food Buyer will be responsible for replenishment, procurement, and the negotiating of food materials such as dairy, meats, ingredients, and packaging, to name a few. This fast-paced role offers plenty of room for growth within the organization.
Booming food manufacturing company hiring for Food Buyer ASAP
3 weeks vacation, 401K, excellent health benefits, summer Friday incentives
Chicago
Permanent
USD65,000 - USD75,000
Our client is a leader in the medical industry and looking to bring on a strong buyer/planner to join their procurement team. The Buyer/Planner will be responsible for ensuring optimal inventory levels, interfacing with internal stake holders/suppliers and managing day to day purchasing for the organization.
Great opportunity for career growth
Join a great organization that is a leader in the medical industry
Lake Bluff
Permanent
USD60,000 - USD70,000
The Buyer/Planner is responsible for planning and preparing production schedules for manufacture of commercial products.
Family Owned company with incredible culture
Great opportunity to step into a high visibility strategic role
Worcester
Permanent
USD95,000 - USD110,000
As the Senior Buyer/Commodity Manager you'd be responsible for all strategic purchasing activities for the North American division, such as strategic planning, supplier development, supplier performance, contract management, etc. This individual will be overseeing a purchasing team and focus on specific commodities, such as Capex and energy services.
Work at a Global & Industry Leading Specialty Materials Manufacturing Company.
Seeking a Senior Buyer with Capex sourcing experience.
Auburn Hills
Permanent
USD90,000 - USD110,000
The Sr. Buyer/Suppler Development will report to the Purchasing Manager and will be responsible for supplier development identifying new suppliers and negotiations procuring materials and services domestically and internally.
100% Free Healthcare and 6% Match at 100% on 401K
Global Automotive Supplier - High Growth and Voted Best Places to Work
Levittown
Temporary
USD51,996 - USD62,395
Our client, located in Bucks County, is seeking a Purchasing Assistant to join its growing team on a contract to hire basis.
Seeking a Purchasing Assistant/Junior Buyer - Contract to Hire
Growing Firm in Levittown, PA
The Procurement Manager will be responsible for leading the tactical and strategic purchasing initiatives for the organization. This will include managing a team of buyers, ensuring products/materials are purchased and delivered on time, managing the supplier base, and ensuring cost savings are being met.
Manufacturing company in the Aerospace industry.
Must have team management experience.
The senior buyer will evaluate the requirements, source the appropriate vendors, negotiate the contract, manage the cost and quality improvement, and assist the end user to make strategic sourcing decision. The person will be the local representative of Procurement in the North America, support the global strategic relationship establishment with key local vendors, and facilitate certain import/export activities.
Own procurement operations as it applied to North America
Unparalleled growth potential.