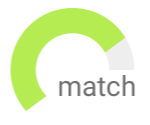 Haven't found the job you are looking for? Use our new smart new Job Match tool to find your next opportunity.
Seeking a Senior Director of eCommerce to oversee Shopify web management and customer lifecycle strategy.
Benefits + Hybrid Remote
Competitive salary + Bonus
New York
Permanent
USD100,000 - USD120,000
REMOTE. The client is seeking a Digital and eCommerce Marketing Manager reporting to the Director of eCommerce, who will oversee SHOPIFY Plus and other DTC digital marketing and eCommerce initiatives.
New York
Permanent
USD70,000 - USD150,000
We are hiring a Digital Marketing Manager who will work remotely from anywhere in the United States. Note, the client firmly believes in a remote workforce, so much so that they no longer use their office space. Candidates seeking flexible work welcome to apply.
100% Permanently Remote + Benefits
Collaborative work culture with low turnover
The client is seeking a Director of eCommerce, reporting to the VP of Sales, who will oversee Shopify and Amazon Vendor & Seller Central optimization and strategy. They will have agency partners and 2 direct reports.
Hybrid Remote Flexibility
401k + Match + Benefits