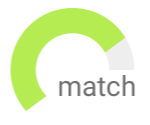 Haven't found the job you are looking for? Use our new smart new Job Match tool to find your next opportunity.
Manhattan
Temporary
USD49,916 - USD60,315
A financial services company is seeking a Temporary Office Manager to support directors and additional employees. The ideal candidate should have 1-2 years of experience providing administrative assistance.
1-2 years experience providing administrative support
Must be able to commute to Midtown East
Boston
Permanent
USD75,000 - USD85,000
EA position supporting the Director of Investment Banking. This role interacts with various senior level Executives.
4 days in office, 1 work from home day
Great team
New York
Temporary
USD60,000 - USD650,000
Support the VP of Communications within a Non-Profit Organization. The duties include an array of administrative tasks.
Hybrid work schedule that is temp to perm based off of performance
Seeking an Administrative Assistance with 3-4 years experience
Carol Stream
Permanent
USD130,000 - USD150,000
The Executive Assistant - C-Suite will report to the Chief Technology Officer and have high visibility to the executive leadership team also supporting the COO, CFO and other executive staff members. The Executive Assistant will provide administrative support as well as performing special projects for the executive team.
Executive Assistant role supporting C-Suite
Hybrid role in the Greater Chicago area
Manhattan
Temporary
USD85,000 - USD100,000
This position is supporting the Managing Director of the New York City office along with 15 - 20 members of the board.
Contract role at Global Investment Banking company
Hybrid position 3 days in office in Midtown, Manhattan.
New York
Temporary
USD51,996 - USD62,395
Calendar and inbox management along with ad-hoc projects on a case to case basis. Run reports and proof read presentations/prepare materials.
This is a very short term Executive Assistant contract for an International Bank
Must be located in NYC & able to go in office 3 days a week
New York
Temporary
USD41,991 - USD49,916
This role supports the Director of Development, requires database knowledge.
6 Month Contract 2-3 days in office in NYC
Large non-profit.
New York
Temporary
USD41,596 - USD49,916
Support 4 Managing Directors within a growing Consumer Goods Company.
Support a group of Managing Directors
Must have previous experience working in the consumer goods industry
New York
Temporary
USD43,676 - USD47,836
Administrative, communicative and logistical service support for the Director Of Education. This is a hybrid role, one day a week is remote.
Opportunity to work hybrid.
New York City
Wheeling
Temporary
USD47,836 - USD51,996
Provide Administrative Support to a team of Managing Directors. Must be willing to jump in and cover receptionist when needed.
This role is based out of Wheeling, IL.
Must be willing to be in office five days a week.
Create job alert to receive Director jobs via email the minute they become available
New York
Temporary
USD93,592 - USD101,912
Must be able to provide administrative support on all levels to a group of Bankers and Principals. Assist with projects and ad hoc reports when needed.
Four month contract within a corporate finance company.
Provide exceptional administrative assistance to a team of Bankers/Principals.
Manhattan
Permanent
USD45,000 - USD56,000
As the administrative assistant, your job will be to provide support to our HR and Finance team. Your duties will be revolved around handling scheduling requests, assisting with ad hoc duties such as office maintenance and answering phone calls.
Hybrid Role - Based in New York
Contracted Role with Potential to go Permanent
Manhattan
Permanent
USD62,395 - USD72,794
The Executive Assistant will provide high-level secretarial and administrative support to the Client Solutions teams, to maximize their effectiveness on a day-to-day basis. You will report to Manager Directors and work alongside other Executive Assistants.

This role is will be in-person in Manhattan and is a contract to hire opportunity.
Must be vaccinated to work in New York City
Urgent Opportunity
New York
Temporary
USD62,395 - USD72,794
Handle a broad range of administrative duties as well as ad-hoc projects across the team. Perform calendar management, including the complex coordination of meetings and video conferences with multiple participants across global time zones.
Contract opportunity with a hybrid work schedule
Handle a variety of different administrative tasks
New York
Temporary
USD56,155 - USD58,235
The Grants Associate will be the Board Liaison and work directly with the Executive Director. The ideal candidate will have experience in grant writing, fundraising, and institutional/individual giving. This role is for a dynamic candidate who can wear many hats.

This role is fully remote, but will be asked to join their NYC office multiple times a month for team meetings. This role is contract to hire, based on performance.
MSW is required.
Vaccination required.