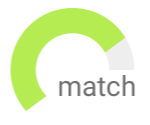 Haven't found the job you are looking for? Use our new smart new Job Match tool to find your next opportunity.
Manhattan
Temporary
USD49,916 - USD60,315
A financial services company is seeking a Temporary Office Manager to support directors and additional employees. The ideal candidate should have 1-2 years of experience providing administrative assistance.
1-2 years experience providing administrative support
Must be able to commute to Midtown East
Denver
Permanent
USD65,000 - USD75,000
The Sales Administrator will work on administrative and sales tasks to support a well known software development company in the greater Denver area. The Sales Administrator will work on a team with members all across North America in a collaborative environment.
In office 2 days a week
Must be located locally to Denver
Manhattan
Temporary
USD72,794 - USD83,193
Our client is a global investment bank and financial services who is seeking an Executive Assistant (Banking Division) for a 3-month contract assignment. The ideal candidate will be bilingual in English & Spanish, have at least 3 years of Executive Assistant support and be eligible to work in-office in Manhattan.


Must be fully vaccinated against COVID-19 to be considered.
*Must be bi-lingual in Spanish & English*
Must have previous experience as an Executive Assistant in the Finance Industry
Manhattan
Permanent
USD85,000 - USD90,000
Executive Assistant supporting different teams at a well-established firm. The Investor Relations team and the Research team are both looking for additional support due to growth.
Great team
Opportunity for growth
Manhattan
Permanent
USD85,000 - USD100,000
Executive Assistant position supporting a ten person office in NYC. This role supports the day-to-day of the office and connects with the other offices world wide.
Bi-lingual English and Mandarin Position
In office 4 days a week
Seattle
Temporary
USD47,836 - USD49,916
Must be dedicated to supporting investment diligence & monitoring multiple processes at once all of which hold the same high importance. Participate with data entry and running multiple reports through a variety of software's.
This is a year long contract in Seattle, Washington - 5x in office
Join an established & reputable finance company
International
Permanent
USD85,000 - USD100,000
EA role supporting the co-president at a finance firm in Darien, CT. This role will be in office five days a week from 7:45am until 5:30pm or 6pm depending on the day.
In Office 5x a week
7:30am-5:30pm/6pm
New York
Temporary
USD51,996 - USD62,395
Calendar and inbox management along with ad-hoc projects on a case to case basis. Run reports and proof read presentations/prepare materials.
This is a very short term Executive Assistant contract for an International Bank
Must be located in NYC & able to go in office 3 days a week
New York
Temporary
USD40,000 - USD42,000
Will be responsible for assisting in document work, managing internal docketing system, file management and other tasks assigned by Head of Administration. Communicate internally and externally - requiring individual to be fluent in Mandarin.
Full Time Contract Role - Executive Assistant for Administrative Team
MUST be fluent in Madeiran
New York
Temporary
USD40,000 - USD45,000
Take on the responsibilities of receptionist at one of Page Group's leading finance clients. Phone management is crucial with this role, must have great note taking skills.
Temp to Perm Opportunity Based off Performance
Tier One Hedge Fund - Successful & Growing Company
Create job alert to receive Financial Services jobs via email the minute they become available
Manhattan
Permanent
USD62,395 - USD72,794
The Executive Assistant will provide high-level secretarial and administrative support to the Client Solutions teams, to maximize their effectiveness on a day-to-day basis. You will report to Manager Directors and work alongside other Executive Assistants.

This role is will be in-person in Manhattan and is a contract to hire opportunity.
Must be vaccinated to work in New York City
Urgent Opportunity
New York
Permanent
USD43,676 - USD58,235
Offer office assistance through multiple administrative tasks. Must be willing to lend a hand across the organization as tasks arise.
This is a permanent part time position - Tuesdays and Thursdays
Assist with hospitality functions while providing reception coverage
New York
Temporary
USD81,113 - USD83,193
Provide exceptional administrative assistance in office four days a week and remote one. Will be floating through departments but mainly sitting with the Research team.
Contract role within established finance company.
Offering competitive pay and hybrid work schedule.
New York
Temporary
USD62,395 - USD72,794
Handle a broad range of administrative duties as well as ad-hoc projects across the team. Perform calendar management, including the complex coordination of meetings and video conferences with multiple participants across global time zones.
Contract opportunity with a hybrid work schedule
Handle a variety of different administrative tasks