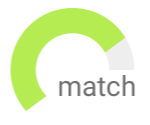 Haven't found the job you are looking for? Use our new smart new Job Match tool to find your next opportunity.
Hopkinton
Permanent
USD170,000 - USD190,000
The Director of Business Development will provide operational support for the Business Development/Sales objectives for the Business Development Team. Serve as a key member of the Business Development Team in evaluating, recommending and assisting in communication of comapny's Value Proposition to support the BD team in negotiating/securing value-added business opportunities.
Highly visible role, supporting internal/external projects & meeting objectives
CDMO w/decades of biopharma industry experience & state-of-the-art facilities
Hopkinton
Permanent
USD130,000 - USD145,000
The Project Manager will lead and have overall responsibility for the project from project initiation through completion. This key role will be highly visible within the organization and will support the company in achieving sales and operations objectives, as well as support our client's goals and objectives.
Highly visible role, supporting internal/external projects & meeting objectives
CDMO w/decades of biopharma industry experience & state-of-the-art facilities