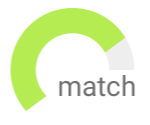 Haven't found the job you are looking for? Use our new smart new Job Match tool to find your next opportunity.
This role will be responsible for supporting the Supply Chain department within Logistics.
International food company
Room for growth
Executes tasks in alignment with Company management's policies and operating procedures. Raises questions and concerns in a proactive way that includes suggestions for improvement.
Temp to perm start ASAP
Leading Fashion Company
Responsible for quoting, coordinating routing, and following up with freight carriers to ensure the product is picked up from our consignors and delivered to our customers. The principal objectives are to coordinate shipments, be the main communication between carrier and consignor/customer and troubleshoot all issues
Temp to perm start ASAP
Hybrid working capacity- NYC office
Seeking a Logistics Coordinator for a fast-paced service business, thriving outstanding service, trustworthiness, professionalism, and quality.
Temp to perm start ASAP
Flexible hours

This position is responsible for maintaining customer accounts and supporting the Company's sales and accounting functions by providing customer service, processing and maintaining sales account information, and acting as a liaison between customers and internal departments as necessary.
Hybrid working capacity- NYC office
Leading biotech company
This position is responsible for providing Supply Chain and Logistics support by monitoring inventory, supporting customer relationships, and analyzing information.
Hybrid working capacity- NYC office
Room for growth and opportunity
Processing Air & Ocean Import shipments and providing effective Customer Service to our internal and external customers!
Generous benefit package
Leading International Freight Forwarder and worldwide provider of logistics
The Logistics Coordinator processes orders and oversees the cycle of order fulfillment.
Temp to perm start ASAP
Hybrid working capacity- NJ office
The Import Logistics Manager will be responsible for managing the import operational side of the business for their customers as well as managing a team of 8 coordinators and a supervisor.
High-Growth, Global Freight Forwarding Company in Jamaica, NY.
Must be able to work in office 5 days a week.