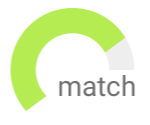 Haven't found the job you are looking for? Use our new smart new Job Match tool to find your next opportunity.
Manhattan
Permanent
USD85,000 - USD110,000
Hybrid working
Great opportunity to define and build out HR functions in a newly created role for a trend-setting television company. Reporting into senior leadership, this HR Manager will be positioned to act strategically as a partner within the organization while assisting the assigned employee population on the day-to-day.
Outstanding wellness program with top tier insurance coverage.
Immediate opportunity to implement processes and positive change.
Manhattan
Temporary
USD85,000 - USD100,000
Hybrid working
This Sr. HRBP role, reporting to the Chief Human Resources Officer, will partner with the Chief Content Officer and the Content leadership team, that oversees all strategic, organizational, and people-related matters that impact their group. This person will work collaboratively across HR and other business teams to provide meaningful HR solutions that enable targeted business outcomes and drive organizational, team, and individual success
Hybrid Role - Based in New York
1-2 days in office
Manhattan
Permanent
USD80,000 - USD100,000
The Senior Human Resources Manager will be the point of contact for the firm and act as the strategic partner to all legal and non-legal staff. This person will be responsible for benefits, employee development and management, payroll, hiring for non-legal staff and more.
Act as the strategic partner and leader of HR within the firm.
Outstanding benefits package with top tier insurance.
Manhattan
Permanent
USD100,000 - USD115,000
This full cycle recruitment role will offer strategic sourcing for the firm's publishing and media teams focusing on both aspects of the business, editorial and commercial. This firm offers a competitive work arrangement that allows for traditional working hours during the week and the flexibility of hybrid/fully remote depending on geographic location.
Newly Created Position offering a dynamic and highly engaging team.
Outstanding wellness program including LGBTQ-focused benefits.
Manhattan
Temporary
USD40 - USD48
My client is seeking a Temporary Recruiter to join our Talent Acquisition team for approximately 6 months. Reporting into the Director of Talent Acquisition, you'll join a dynamic team that's adapted to hiring remotely and is working hard to make it a great experience for our applicants and hiring managers, too.
Long term Temp Assignment
Work for a Prestigious Publishing Company
Manhattan
Permanent
USD80,000 - USD100,000
The HR Manager for the US will have direct ownership and impact on the company's talent acquisition plan and employee relations. Acting as a leader within the broader HR organization, you will work closely with staff at all levels to affect positive change in talent assessments, culture-emphasis, and act as a point-person for employees concerns.
Superb opportunity to support a global news publisher committed to the truth.
Be a key leader in implementing and evolving HR functions that benefit all.
Manhattan
Permanent
USD70,000 - USD110,000
This position will act as a key business partner with the possibility to work on and assist with strategic HR projects such as Employer Branding, On-boarding etc. Looking for a Talent Acquisition Specialist, experienced in technical recruiting, who can help attract and hire talent for all our offices.
Newly Created Position with ability to manage a team
Fully Covered Health Insurance including Children
Manhattan
Temporary
USD106,071 - USD116,471
Our client - reputable non-profit organization - are looking for a HR business partner to join the team. This is a fantastic opportunity to learn across all areas of the business.
Hybrid Role - Based in New York
Contracted Role with Potential to go Permanent
Manhattan
Temporary
USD62,395 - USD72,794
Our Client is looking for a quick-thinking HR Coordinator to join our Human Resources department at our midtown Manhattan office. You will participate in the full lifecycle of recruitment for corporate positions. You will be working on a day-to-day basis with senior executives in the office, so you should have excellent interpersonal and communication skills.
Hybrid Role - Based in New York
Contracted Role with Potential to go Permanent