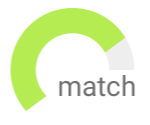 Haven't found the job you are looking for? Use our new smart new Job Match tool to find your next opportunity.
Norwood
Permanent
USD100,000 - USD125,000
This Electrical Engineer with lead the redesign of existing products based on new components, and have the opportunity to drive the implementation of a new automated process.
Exciting role at an innovative and fast growing company
Opportunity to lead the implementation of automation processes
Norwood
Permanent
USD100,000 - USD120,000
The Electrical Systems Engineer will work within the Manufacturing Engineering group to provide continuous improvement and new techniques of complex electrical system qualities. The candidate will work alongside the production and operations personnel to bring new products into the process of existing and new Medical Device products.
Well-known growing brand to explore new products in the Medical Industry
Production of a leading edge product to enhance the health of patients
Worcester
Permanent
USD95,000 - USD130,000
One of our longest standing manufacturing clients is working with us exclusively in Worcester to hire a Plant Controller for its Worcester facility. The role will suit accounting professionals with previous hands on manufacturing experience, strong leadership skills and the willingness to create and implement robust reporting mechanisms for the site.
A newly created role due to growth, with clear progression on offer
The opportunity to add value to a well established global company
Norwood
Permanent
USD80,000 - USD95,000
Michael Page is partnered with one the area's most reputable General Contractors as they seek to hire an "Assistant Project Manager - Ground-Up Construction" to join their team. Apply today for immediate consideration.
Take a key role building large projects up to $100 million in value
Base salary up to $95,000 plus full benefits package
Norwood
Permanent
USD70,000 - USD100,000
Our client is looking for a Commercial Construction Project Manager to join their team in the Cincy Area. This role will offer long term development and provide the successful candidate with exposure to both ground up and interior renovation construction within commercial interiors, light industrial, financial, and retail.
Structured career path with a clear trajectory into senior level management
Base salary $70-$100k with massive bonus potential
Norwood
Permanent
USD80,000 - USD120,000
Leader in the Health-care Construction space looking for a talented Project Manager to join their ranks.
Reputable company with opportunity for growth
Competitive Salary and Benefits
Norwood
Permanent
USD80,000 - USD120,000
Michael Page is partnered with one of the Top Mechanical Contractors in Massachusetts on their search for an HVAC Coordinator. Apply today for immediate consideration.
Join one of Massachusetts' Top Mechanical Contractors!
Competitive pay & great benefits!