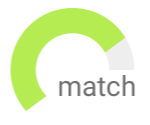 Haven't found the job you are looking for? Use our new smart new Job Match tool to find your next opportunity.
Torrance
Permanent
USD70,000 - USD85,000
The Project Manager is responsible for processing POs, onboarding new customers, maintaining relationships with existing customers, and implementing new products. This person plays a key role in external and internal cross-functional SMEs to ensure successful projects on a monthly basis.
Contract manufacturing company looking for an account manager to join the team!
Prime location, collaborative environment, and room for career growth.
Los Angeles
Permanent
USD70,000 - USD85,000
Michael Page is currently working on a retained Project Manager search with an exciting beauty company located in the Los Angeles area.
2+ years of experience as a Project Coordinator in the Cosmetics industry
Bachelor's Degree strong preferred
Work cross-functionally with product managers, designers, engineers, data scientists, operations, and others to build and evolve the product pods org structure
Join an International CPG/Retail Company!
Contract-to-Hire Opportunity!
Work hand in hand with the Director of Communications, Operations, Brand, regional and affiliate teams to help achieve success across email, sms, and re-targeting channels.
Prestigious and reputable Global CPG Company
Good Culture
Northbrook
Permanent
USD90,000 - USD100,000
The Strategic Sourcing Project Manager will lead the execution of strategies through strategic sourcing to significantly reduce costs. This role will partner with internal customers and build relationships with key stakeholders and be responsible for achieving savings, managing contract implementation, and tracking impact. The goal is to achieve reductions in total costs of services while maintaining/improving supplier quality and service.
Must Have Strong Indirect Sourcing Background
Highly visible role with ample career growth opportunity
My client is an international, well-established organization in the cosmetics/beauty space. This is a fantastic opportunity to make an impact in a creative brand while project managing your portfolio.
Innovative & Creative Makeup Brand
New product development and commercialization exposure
My client is an international, well-established organization in the cosmetics/beauty space.
Innovative & Creative Makeup Brand
Well-established & growing Beauty Brand!
Skokie
Permanent
USD140,000 - USD160,000
The PMO Director (Project Management Office) will be focused on the delivery of North America and Global projects and business change programs. The PMO Director will work cross functionally with North America and Global leaders delivering on change management projects while also developing a standardized project management process implementing stage gate, prioritization, and project tracking processes and procedures.
Global leading food and ingredients manufacturer
Highly visible role globally impacting change management