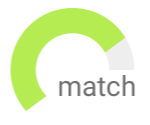 Haven't found the job you are looking for? Use our new smart new Job Match tool to find your next opportunity.
Manhattan
Permanent
USD125,000 - USD140,000
Our client is seeking a self-driven individual to join their legal department. This individual will serve as a liaison between the investment management team and outside legal counsel, and will be a part of matters relating to transactions, agreements, and documentation. The ideal candidate enjoys working in a collaborative fast-paced environment and is ready to grow within an organization.
Opportunity to join a firm that offers a hybrid working enviroment
Opportunity to join a firm that offers future growth opportunities
New York
Permanent
USD60,000 - USD90,000
Our client is a mid-sized law firm based out of New York who is looking for a Commercial Real Estate Paralegal to join their growing Real Estate practice group. The incoming candidate will be responsible for reviewing surveys/titles, preparing ancillary documents, and assisting attorneys with closings.
Amlaw 200 firm
Learning opportunities within a growing law firm
New York
Permanent
USD100,000 - USD145,000
In this position, you will assist attorneys in all aspects of commercial real estate transactions, including documentation, due diligence, development and entitlements, closing and post-closing activities for real estate acquisitions, dispositions, and title and survey. You will be a member of the firm's Real Estate department, reporting to the attorneys on your team.
Opportunity to join Am Law 100 firm
Generous compensation package
Manhattan
Temporary
USD83,193 - USD103,992
This person should have experience dealing with senior lenders, bridge and mezzanine lending and construction. This person will be doing heavy title examining and review work, having that experience is imperative. This person will be working alongside one paralegal and a legal assistant, supporting two partners.
Commercial Real Estate Paralegal opportunity with a very competitive salary
In office in Midtown Manhattan at extremely reputable law firm
New York
Permanent
USD185,000 - USD230,000
This role is with a mid-sized firm looking to expand their Commercial Real Estate practice by hiring an associate attorney with 3-5 years of relevant real estate experience. The opportunity will provide work-life balance without compromising salary.
Collegial Environment
Long Term Career Trajectory
Accountable for prospecting new business and retaining and deepening existing relationships
Focus on high-quality, institutional investors,
Manage commercial real estate debt transactions from initial deal package through closing and asset management
Develop mortgage financing business across major asset classes
Retain and deepen existing relationships
New York
Permanent
USD200,000 - USD315,000
The candidate will work on a variety of commercial real estate matters including debt and equity sides of the transaction including the acquisition, disposition, leasing, ownership, development, financing and restructuring.
Market Pay
Career growth and advancement
Manhattan
Permanent
USD215,000 - USD300,000
Working directly with the Partners, the Real Estate Transactions Associate will handle sophisticated commercial real estate transactions including acquisitions, sales transactions and joint ventures.
AmLaw Top 50 Firm
Seeking Real Estate Transactions Associate
New York
Permanent
USD125,000 - USD150,000
The Vice President of Industrial Development (Real Estate) will be responsible for managing development activities of the growing logistics and industrial group, including land due diligence, entitlement, design and construction of industrial / warehouse facilities and associated tenant improvements.
Experience with industrial development and construction management
Managing development activities of the growing logistics and industrial group
New York
Permanent
USD200,000 - USD201,000
The VP of Investments will identify knowledge gaps, create staffing plans, and manage hiring and performance management for the investment team. He or she will create the strategy for buying and selling homes using a portfolio perspective and home valuation process.
This role can be fully remote
Develop algorithms, models and techniques for investment strategies
Create job alert to receive Real Estate jobs via email the minute they become available
New York
Permanent
USD200,000 - USD250,000
My client is a premier law firm within the leasing space globally. You will have direct exposure to clients and partners in an environment where mentorship and collaboration are the focus. Partners get to know associates beyond the workplace and value their career progression.
Lifestyle law firm with outstanding reputation and culture
Premier law firm within leasing
New York
Permanent
USD125,000 - USD175,000
Exciting opportunity for a Project Manager (NY Real Estate Developer) with a proven track record of Residential projects completion in New York city to join an established national Real Estate Development firm.