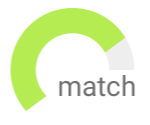 Haven't found the job you are looking for? Use our new smart new Job Match tool to find your next opportunity.
Groton
Permanent
USD85,000 - USD100,000
Looking for a Sales Project Manager who has familiarity with residential construction, and communicating with high-end clientele. This individual will be responsible for funneling through inquiries from potential clients, signing new clients, & setting expectations for clients.
Base salary up to $100k
Firm values the Work/life balance for employees
Boston
Permanent
USD55,000 - USD80,000
This is a mid level position for those passionate about consultative sales. We are looking for candidates with a high level of energy, determination and resilience.

Looking for someone with sales or business development experience who can provide solutions and consultative support by understanding client's needs
Competitive Salary and Uncapped Quarterly Bonus!
Flexible Hybrid Schedule
Newton
Permanent
USD70,000 - USD90,000
Michael Page has partnered with a Leader in Masonry, Restoration, Historic Preservation, Waterproofing, Foundation, Basement, Mold Remediation, Fire Water Restoration. Founded in 2007, they are looking for a Sales/Business development manager to help win new business and strengthen current client relationships. Please apply within for immediate consideration.
Work directly with ownership, Competitive pay + PTO + Travel compensation!
Large opportunity for upward growth and help develop their project pipeline!
Boston
Permanent
USD130,000 - USD140,000
My client is a sub 150 employee global DevOps scale up, specifically in mobile application security working with some of the top middle market and enterprise companies globally. They are actively seeking a Director of Sales to directly manage and scale their US sales team.
Join a high growth global scale up
Directly manage a high growth AE, AM, and SDR team
Boston
Permanent
USD121 - USD140,000
Lead a high growth US sales team
Interview, hire, onboard, train and manage your sales reps including Account Executives, Account Managers, and Sales Development Representatives
Set key performance indicators and sales goals to assess both team and individual performance and success
Develop and adapt quota's, territories, verticals and overall GTM plan
Join a high growth global scale up!
Directly manage a high growth AE, AM, and SDR team
Chelmsford
Permanent
USD130,000 - USD140,000
Manage a team of Global Service specialists
Work with Tier 1 clients to build relationships and solve any issues they have
Join a fast-paced organization within the manufacturing space
Utilize your leadership skills in a hyper-growth organization
Middleborough
Permanent
USD160,000 - USD250,000
Are you a proven Sales professional with extensive experience in the industrial space?
Are you looking for a strategic VP role with a rapidly growing PPE/safety manufacturing company?
Join a fast-paced organization within the industrial space
Develop advanced sales skills and relationship skills in the field
Boston
Permanent
USD70,000 - USD80,000
The Sales Support Engineer will supply technical pre-sales product support to the company's internal (field Sales and in-house Product Managers) and external customers. The job entails becoming the Sales and Marketing technical product Subject Matter Expert (SME) for company's systems products.
Full-time position reporting directly to VP of Sales and Marketing
On-site role with ~10% travel, supporting both customers and sales team