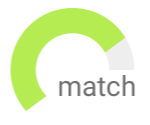 Haven't found the job you are looking for? Use our new smart new Job Match tool to find your next opportunity.
New York
Temporary
USD60,000 - USD650,000
Support the VP of Communications within a Non-Profit Organization. The duties include an array of administrative tasks.
Hybrid work schedule that is temp to perm based off of performance
Seeking an Administrative Assistance with 3-4 years experience
New York
Temporary
USD41,991 - USD49,916
This role supports the Director of Development, requires database knowledge.
6 Month Contract 2-3 days in office in NYC
Large non-profit.
New York
Temporary
USD43,676 - USD47,836
Administrative, communicative and logistical service support for the Director Of Education. This is a hybrid role, one day a week is remote.
Opportunity to work hybrid.
New York City
Support a group of Managing Directors and Directors. Provide exceptional administrative support and meet deadlines while working in a fast paced environment.
Support a group of Managing Directors
Must be willing to go in office five days a week
New York
Temporary
USD62,395 - USD68,634
Provide administrative assistance to a group of Managing Directors and Directors. This includes calendar management, clerical work, and any work overflow.
Work in a corporate finance enviroment providing Administrative Assistance
Must be willing to be onsite 5x week.
Manhattan
Permanent
USD62,395 - USD72,794
The Executive Assistant will provide high-level secretarial and administrative support to the Client Solutions teams, to maximize their effectiveness on a day-to-day basis. You will report to Manager Directors and work alongside other Executive Assistants.

This role is will be in-person in Manhattan and is a contract to hire opportunity.
Must be vaccinated to work in New York City
Urgent Opportunity
New York
Permanent
USD62,395 - USD68,634
Provide daily administrative support to assigned Managing Directors and Directors of a team in an efficient, detail oriented, and proactive manner. Meet deadlines and become and integral part of the team.
Contract to hire role based off of performance.
Must be in office 4x per week.
New York
Temporary
USD56,155 - USD58,235
The Grants Associate will be the Board Liaison and work directly with the Executive Director. The ideal candidate will have experience in grant writing, fundraising, and institutional/individual giving. This role is for a dynamic candidate who can wear many hats.

This role is fully remote, but will be asked to join their NYC office multiple times a month for team meetings. This role is contract to hire, based on performance.
MSW is required.
Vaccination required.