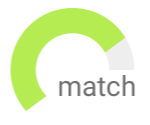 Haven't found the job you are looking for? Use our new smart new Job Match tool to find your next opportunity.
Los Angeles
Permanent
USD80,000 - USD95,000
The Accounting Analyst is responsible for performing routine functions within the Firm's Accounting department, including supporting the Financial Operations Manager in the preparation of analysis and information requests.
Fully Remote
Career opportunities
Beverly Hills
Temporary
USD41,596 - USD72,794
My client is a Private Equity firm. They are seeking a Staff Accountant to join their team ASAP. This role is fully on-site in Beverly Hills, and is a contract to hire opportunity.
On-Site Opportunity in Beverly Hills
Contract to Hire Opportunity with ASAP Start Date
Los Angeles Metro Area
Temporary
USD72,794 - USD124,790
My client is a Consumer Goods organization that is seeking a Accounts Manager to join their team ASAP. This role will involve maintaining and control the GL accounts and business transactions, applying GAAP & working with thorough review of financial records.
Temp to Hire Opportunity in Los Angeles
Ability to Grow Accounting & Finance Career within Manufacturing Industry
Our client - well known hospitality company based in San Mateo, CA - are looking for a Staff Accountant to join the team. Candidates do not have to be local as this role has the option to be fully remote.
Well known hospitality company
Are looking for an Staff Accountant to join the team
Our client is an organization based within the hospitality industry. They are seeking a Staff Accountant to start ASAP; this is a remote role.
Fully Remote Opportunity
Contract to Hire Role | West Coast Hours
Our client is currently looking for a Staff Accountant to join the team! This is a temp to perm opportunity and looking for a candidate immediately available!
Hospitality organization based in California
Are looking for a temporary Staff Accountant
San Francisco
Permanent
USD1 - USD10
This person will work with the finance team to reconcile and analyze all aspects of compensation. They will work with compliance guidelines like ASC606 to manage compensation expenses.
Great opportunity to join a rapidly expanding Investment Management firm
Opportunity to work in a growing environment and great growth potential
San Francisco
Permanent
USD1 - USD10
This person will be responsible for working with the Manager of Finance to perform all AP/AR responsibilities. You will reconcile AP/AR accounts and perform high volume invoice processing.
Great opportunity to join a rapidly expanding Investment Management firm
High growth potential with a cutting edge Investment firm
San Francisco
Permanent
USD140,000 - USD180,000
Are you an Accounting Professional with a strong focus on improving Technology and Systems? Have you worked with systems such as Oracle, Workday, or NetSuite and consider yourself a subject expert matter on them? Have you improved the Accounting Close process through systems? If you have a strong Accounting & Technology background please read on and apply to the Manager, Accounting Technology and Business Processes position based in San Francisco.
Hybrid WFH Opportunity
Join a growing team in a fast growing company
Torrance
Permanent
USD150,000 - USD180,000
Driven sales professional looking to lead the day-to-day operations and expansion for a fast-growing robotics and machinery manufacturing company. This person will need the ability to work autonomously and efficiently drive growth in existing accounts as well as bring in new business.
High-Growth manufacturing and robotics company looking for Sales Manager
Hybrid work model in the Torrance, CA
Create job alert to receive Accountant jobs via email the minute they become available
San Diego
Permanent
USD150,000 - USD215,000
Work from home
The Grid-Scale Renewables - Director, Mergers/Acquisitions - CA, will directly support the Vice President, and will lead the M&A team for N. America.

The position's focus will include identifying and executing on project acquisition opportunities, negotiation of partnerships, managing internal investment processes and performing market and competitive analyses for Leadership.
Americas leading Owner/Operator - Solar, Storage, Wind, Hydrogen, Transmission.
Transaction heavy, good foresight,& looking for a step up into a team lead role.
Irvine
Permanent
USD110,000 - USD140,000
Creating clean and exciting reports based on data analysis on a monthly, quarterly, and yearly forecast to C-Suite members. Work with teams cross-functionally in order to provide key insights for sales and financial management.
Award-winning innovation that beats the standard market.
Health and wellness focused company with long-term career growth.
San Diego
Permanent
USD130,000 - USD150,000
Working out of the San Diego, CA office - the Scientific Account Manager is a critical member of the Business Operations team and performs as the scientific liaison both internally and with external partners. The Scientific Account Manager will design and manage preclinical client studies from lead optimization through regulatory submission.
Scientific and consultative role, interfacing directly w/ other scientists
Drive commercial business by utilizing technical expertise & industry knowledge
Los Angeles
Permanent
USD100,000 - USD120,000
Fantastic Senior Financial Analyst opportunity working within a smaller, collaborative team at a leading Investment Management firm with $300b+ in AUM. This role will sit in their Los Angeles office and will include, but is not limited to, analyzing portfolio investments, financial analysis, financial modeling, data analysis and working with deals team.
Investment Management firm with $300b+ in AUM
Hybrid Schedule Flexibility
San Francisco
Permanent
USD1 - USD10
You will have the opportunity to join a rapidly growing Investment Firm and implement new policies and procedures within the finance/accounting function. This person will oversee a group of 4-6 accounting professionals and report directly to the VP of Finance.
Great opportunity with growing investment firm in San Francisco
Great opportunity to implement new processes for growing team
Sonoma
Permanent
USD95,000 - USD140,000
A new amazing opportunity to work in Wine Country suddenly is available after the previous employee retired. This hybrid position offers tremendous amount of growth within the expanding company. This is a hybrid responsibilities role that will focus on not only the finance function but also operations.
Excellent Potential for Growth
Competitive Salary with Fantastic Culture
San Diego
Permanent
USD165,000 - USD190,000
The Renewable Energy - Snr. Manager, Portfolio Finance - San Diego, will report to the Director, Portfolio Finance and be responsible for managing commercial matters with financing parties for multiple projects within the renewable project portfolio - including fundings / term conversions of debt, cash equity and tax equity.
Renewable Energy, Utility-Scale Developer/Owner/Operator.
Over 8 gigawatts of assets under operation!
USA
Permanent
USD150,000 - USD165,000
This role will be responsible for building out the Talent Acquisition function at the organization. They will be responsible for strategy, full cycle recruitment(corporate functions), managing the relationship with their recruitment agency for hourly positions and more.
Newly created position with growing organization
Option to be completely remote in TX, NJ or CA
California
Permanent
USD145,000 - USD175,000
The Controller will play a key role in the Financial leadership team. They will lead the team through the monthly close, financial statement preparation, P&L analysis, and general process improvements. They have several offices across California.
International Law Firm
Opportunity to work Senior Partners and Finance Leaders
El Segundo
Permanent
USD70,000 - USD90,000
To provide financial, analytical, and administrative services to ensure efficient, timely and accurate analysis and reporting of activities under his or her control
Thriving consumer goods brand with great company culture
3 weeks vacation, 401K, excellent health benefits, summer Friday incentives
Hollywood
Temporary
USD124,790 - USD176,786
My client is a wellness organization, based out of Los Angeles. This role is seeking a Controller to join their team ASAP on a remote, contracted basis.
Full time hours and remote role
Potential for permanency
Our client is seeking a Legal Entity Controller to join their team ASAP. This is a hybrid role that will manage financial control and accounting functions & deliver consolidated view of the US legal entity accounting figures.
Opportunity to Interact with Global Stakeholders
ASAP Start Date
The Controller participates in the daily management and reporting of construction projects and monthly financial reporting for operating entities. The Controller will be responsible for all financial aspects including corporate accounting, financial reporting, budgeting and internal control policies and procedures and will oversee the department.
Controller - Construction General Contractor
Controller - Construction General Contractor
Irvine
Permanent
USD140,000 - USD160,000
The Director, Clinical Affairs, will be a key leadership role responsible for the clinical development strategy and execution of ophthalmic medical device clinical programs. This includes support for all phases of the clinical programs internationally and the United States. The role will lead both clinical development and operations across our programs. Studies for these programs will be in the US and also selectively in other OUS geographies.
Leadership opportunity with Growing Clinical Start-up
Support for all phases of the clinical programs internationally and the US
USA
Permanent
USD150,000 - USD170,000
Michael Page is partnered with a tech / Higher Education start up HQ'd on the East Coast to assist in the hiring of a Director / VP of Finance. The role will suit finance professionals with around 10 years experience with a CPA.
Opportunity to build a finance function for an innovative start up
Equity and bonus available
Los Angeles Metro Area
Permanent
USD110,000 - USD130,000
The Accounting Manager will report to the Chief Financial Officer and oversee the accounting function across all Cuts Clothing entities. This person will manage the day-to-day operations of the Accounting and Finance team, taking ownership of corporate accounting, tax filings, financial reporting, audit management, budgeting/forecasting, and the continual development of internal financial control policies and procedures..
Provides clear path of career growth within the health/nutrition Industry
Hybrid work opportunity, amazing health benefits, PTO and 401K
Vacaville
Permanent
USD100,000 - USD120,000
The Project Engineer in Vacaville is responsible for assisting the project management team by providing:
accurate project documentation and control
job cost accounting
scheduling
site supervision
Looking for career growth in multifamily construction?
Join a local builder doing impactful projects in the Bay Area since 1981.