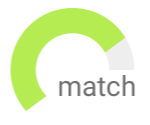 Haven't found the job you are looking for? Use our new smart new Job Match tool to find your next opportunity.
New York
Temporary
USD45,756 - USD51,996
Administrative Assistant supporting two Rabbi's within a large nonprofit within the New York City.
Hybrid in office and work from home opportunity.
Nonprofit organization.
New York
Temporary
USD60,000 - USD65,000
Work in a fast paced environment that is extremely dead line driven. Seeking an individual who is professional across all forms of communication and confident on the phones.
Seeking an experienced Administrative Assistant to assist Communications team.
Previous experience working in Professional Services is necessary.
New York
Temporary
USD60,000 - USD650,000
Support the VP of Communications within a Non-Profit Organization. The duties include an array of administrative tasks.
Hybrid work schedule that is temp to perm based off of performance
Seeking an Administrative Assistance with 3-4 years experience
New York
Temporary
USD47,836 - USD72,794
This is a three month contract that can go permanent based off performance. Will be providing exceptional admin assistance supporting an executive
Support the Client Services Team within a global banking company.
Must be fully vaccinated and able to go into office five days a week.
New York
Temporary
USD81,113 - USD83,193
Provide exceptional administrative assistance in office four days a week and remote one. Will be floating through departments but mainly sitting with the Research team.
Contract role within established finance company.
Offering competitive pay and hybrid work schedule.
Camden
Temporary
USD41,596 - USD47,836
Work closely with the recruitment team assisting with day to day administrative tasks. Assist with the on-boarding process as well as training for new hires.
Administrative Assistant to a team of Recruiters
Must be willing to be in office 5 days a week in Camden, NJ
New York
Temporary
USD62,395 - USD72,794
Handle a broad range of administrative duties as well as ad-hoc projects across the team. Perform calendar management, including the complex coordination of meetings and video conferences with multiple participants across global time zones.
Contract opportunity with a hybrid work schedule
Handle a variety of different administrative tasks
Wheeling
Temporary
USD47,836 - USD51,996
Provide Administrative Support to a team of Managing Directors. Must be willing to jump in and cover receptionist when needed.
This role is based out of Wheeling, IL.
Must be willing to be in office five days a week.
New York
Temporary
USD41,596 - USD49,916
Support 4 Managing Directors within a growing Consumer Goods Company.
Support a group of Managing Directors
Must have previous experience working in the consumer goods industry
New York
Temporary
USD45,756 - USD49,916
Work a four month contract as an Administrative Assistant providing assistance with coordination, sales, and research.
4 Month Contract - Fully Remote
Work closely along the Language Services Team
Create job alert to receive Administrative Assistant jobs via email the minute they become available
New York
Temporary
USD41,596 - USD51,996
Provide Administrative support to assist a Non Profit Organization run smoothly and organized. Must be located in NYC or willing to commute in Monday through Friday.
Become part of a Non Profit Organization by providing Administrative support.
Must be willing to be in office 5x week.
Manhattan
Permanent
USD45 - USD48
A Upper West Side school is seeking an Administrative Assistant to support their school, faculty, parents, and executives. They are seeking a reliable, team player candidate, whose mission aligns with their own. This is a direct hire opportunity and qualified applicants must be fully vaccinated and able to commute to Manhattan Monday to Friday. The hours are 7:45AM to 3:45PM.


Must be vaccinated to work in New York City
Location: Upper West Side
New York
Temporary
USD43,676 - USD47,836
Administrative, communicative and logistical service support for the Director Of Education. This is a hybrid role, one day a week is remote.
Opportunity to work hybrid.
New York City
This Legal Administrative Assistant position is at a small, family-owned law firm. This position is for an eager fre sh-gra d that is looking to get into the legal space, learn and grow. This opportunity has extensive growth opportunities with great training and management.
This role is in the office in Suwanee, GA and is supporting the founding attorney with administrative tasks.
Contract to hire opportunity at family owned law firm in Suwanee, GA
Opportunity for extensive growth and development with great training
Manhattan
Permanent
USD45,000 - USD56,000
As the administrative assistant, your job will be to provide support to our HR and Finance team. Your duties will be revolved around handling scheduling requests, assisting with ad hoc duties such as office maintenance and answering phone calls.
Hybrid Role - Based in New York
Contracted Role with Potential to go Permanent
Manhattan
Temporary
USD72,794 - USD83,193
Our client is a global investment bank and financial services who is seeking an Executive Assistant (Banking Division) for a 3-month contract assignment. The ideal candidate will be bilingual in English & Spanish, have at least 3 years of Executive Assistant support and be eligible to work in-office in Manhattan.


Must be fully vaccinated against COVID-19 to be considered.
*Must be bi-lingual in Spanish & English*
Must have previous experience as an Executive Assistant in the Finance Industry
Passaic
Temporary
USD45,000 - USD55,000
This position's responsibilities include responding and distributing phone calls that come in, updating the web developers with product information, images, and inventory counts. Posting to social media accounts, assisting the salespeople with paperwork and communication. Organizing paperwork and filing paperwork. Utilizing Microsoft Office Suite and CRM systems.
Permanent after 15 days based on performance
Fully in office in Passaic, NJ
New York
Permanent
USD55 - USD60
The Administrative Associate will support up to three lead Recruiters for a global recruitment firm located in the heart of the Manhattan. As the Administrative Associate you will be directly supporting fast paced Recruiters, ensure their days are running efficiently and assist with the recruitment cycle.

This role is full-time, hybrid, and will be based in Manhattan. Applicants must be vaccinated against COVID-19.
Must be located in the Greater NYC Area
Administrative experience is highly preferred
Yonkers
Temporary
USD31,197 - USD51,996
Our client is a nonprofit organization, located in Yonkers. They are seeking an Accounting Assistant ASAP to handle administrative responsibilities. This role is 100% in office, and requires candidates to be fully vaccinated.
Opportunity to Start Professional Career & Grow Work Experience
ASAP Start Date with Medical Benefits Provided
Manhattan
Permanent
USD85,000 - USD90,000
Executive Assistant supporting different teams at a well-established firm. The Investor Relations team and the Research team are both looking for additional support due to growth.
Great team
Opportunity for growth
Washington
Temporary
USD70,000 - USD85,000
Hybrid role 3 days in office 2 days working from home AFTER first month entirely in office. This role is supporting 3 partners at this law firm that specializes in a variety of areas.

This position is either a temp to hire role or a direct permanent hire based on candidate experience, professionalism, and presentation in the interview.

This candidate needs to be extremely detail oriented and thorough in all aspects.
Position could be permanent based off of skillset and experience
Hybrid role in Washington, D.C. at small sized law firm
Carol Stream
Permanent
USD130,000 - USD150,000
The Executive Assistant - C-Suite will report to the Chief Technology Officer and have high visibility to the executive leadership team also supporting the COO, CFO and other executive staff members. The Executive Assistant will provide administrative support as well as performing special projects for the executive team.
Executive Assistant role supporting C-Suite
Hybrid role in the Greater Chicago area
Manhattan
Temporary
USD85,000 - USD100,000
This Executive Assistant will perform all administrative functions and will require the ability to successfully balance assignments and a variety of tasks from multiple individuals. This Executive Assistant will interact with Clients, other executive leaders and will be required to maintain absolute discretion and confidentiality as would be expected of a professional in this role.
Temp to perm position based off of performance
Full time in office in Manhattan supporting CEO