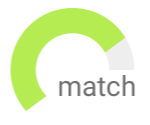 Haven't found the job you are looking for? Use our new smart new Job Match tool to find your next opportunity.
Pittsburgh
Temporary
USD40,000 - USD55,000
Entry level Human Resource Assistant opportunity. Play an integral part of the HR scheduling, sourcing, calendaring, and applicant tracking. Taking candidates through process from start to finish.

Remote Opportunity near Pittsburgh area.


Primarily remote opportunity at global law firm with growth opportunities
Must be located near/willing to commute into Pittsburgh as needed
Manhattan
Temporary
USD62,395 - USD68,634
Our client - reputable law firm - are looking for a recruiting assistant to join the team. This is a fantastic entry level opportunity to learn across all areas of the business.
Fantastic Entry Level Role
Contracted Role with Potential to go Permanent
Manhattan
Temporary
USD51,996 - USD62,395
As the HR specialist your role will be to be a point of contact for assigned programs. It will involve generalists tasks on a more junior level providing support to the current HR dept.
Hybrid Role - Based in New York
Contracted Role covering an employee on leave
New York
Permanent
USD70,000 - USD75,000
As the Assistant Payroll Manager, you will be sitting on the HR team and performing all functions of payroll. The Assistant Payroll Manager will be processing payroll semi-monthly and manage state/federal laws for 800+ employees. As the Assistant Payroll Manager you will performing a wide range of payroll, HR, and administrative activities for the department. This role is a hybrid model starting in fall and will be in office two day a week.
Hybrid Role - Based in New York
Opportunity for Career Growth
Manhattan
Permanent
USD50,000 - USD60,000
This role supports the Attorney Development Department with all Administrative Human Resources pieces. This collaborative, innovative team is around 7-10 people and requires someone that is able to manage different personalities and coordinate schedules.
ENTRY LEVEL Permanent hybrid opportunity at global law firm
Office is in the Hudson Yards and will be 2-3 days in the office per week
Washington
Permanent
USD50,000 - USD60,000
The Recruiting Assistant will support the Legal Recruiting Team in Washington DC with scheduling interviews, onboarding new hires, compiling data, and assisting on special projects. The Recruiting Assistant role has runway for promotion - is a great role if you are looking to get your feet wet in recruiting!
Are you looking for a entry-level recruiting role with growth opportunities?
Learning & development opportunities and runway for growth
Houston
Permanent
USD50,000 - USD70,000
An executive assistant is commonly found answering phones, screening visitors, making travel arrangements, preparing reports, filing and organizing documents, recording meeting minutes, and performing basic bookkeeping tasks.
Work alongside Director of Operations for Reputable General Contractor in Texas
Salaried Position with Full health, dental, and vision benefits
Manhattan
Permanent
USD105,000 - USD115,000
Top Investment Bank seeking an Assistant VP to manage talent and performance of the employees at the firm. The ideal candidate is an experienced HR professional with a background in employee relations and talent management.
Grow your HR career at a top investment bank
Above market salary and unlimited room for growth
Manhattan
Permanent
USD60,000 - USD65,000
Law firm is seeking an organized and motivated individual to join their professional development and DEI team in New York City. The ideal candidate will assist in all Diversity, Equity and Inclusion as well as Professional Development initiatives with the greater team.
Grow your professional career at an established law firm in NYC
Join a team of professionals that share a passion for their field
Manhattan
Permanent
USD45,000 - USD55,000
The HR Admin will support the organization's human resources specialist. They will tend to clerical tasks such as writing correspondence, answering telephone calls and scheduling appointments.
New Role Alert! Human Resource Assistant - Hybrid Opportunity
Contracted Role with Potential to go Permanent
Create job alert to receive Assistant jobs via email the minute they become available
New York
Permanent
USD60,000 - USD80,000
Entry-level HR role on a quickly growing team. Responsible for support various HR functions.
Completely Remote - Tri-State Area
Rapidly growing company in the hospitality industry, opportunity for growth!
Manhattan
Permanent
USD51,996 - USD62,395
As the recruiting coordinator your main job focus will be to partner up with the recruitment team and assist with their job duties in day to day screening candidates, scheduling interviews, preparing and posting job advertisements. You will be in charge of making sure the candidate experience is the most seamless.
Urgent Recruitment Coordinator role with an amazing organization
Contracted role with potential to go permanent - Immediate Start!
Wilmington
Temporary
USD51,996 - USD58,235
The HR Analyst will sit among the People Operations team within the HR Platforms & Infrastructure at our client company. They are responsible for the effective delivery and support of all employee and talent related operational activities across the HR function globally.
Hybrid Role - Based in Delaware
6 month contract role with potential to be extended or go permanent
Looking for a human resources associate who is creative and has a passion for art for one of the top New York gallery locations. They will have a hybrid schedule and will be able to learn not only about their department but also about art and what it is like to be in a creative industry.
Human Resources Associate to work in a luxury New York gallery
Creative individual seeking a hybrid schedule with contemporary art
Manhattan
Temporary
USD93,592 - USD114,391
Elite global law frim based in mid-town Manhattan, featured in the top 20s of the 100 AM law firms 2021 - Fully remote opportunity
Fully Remote Role - Based in New York
Elite Global Law Firm
Manhattan
Temporary
USD56,155 - USD64,475
The Diversity, Equity & Inclusion (DEI) Coordinator is a critical member of the DEI department providing support to the team, the programs, and helping to fulfill the organization's mission in a truly inter-sectional and inclusive way.
100% Remote Role - Based in New York
Contracted Role with Potential to go Permanent
Bronx
Temporary
USD41,596 - USD45,756
My client is seeking a Contract HR/ Recruiting Representative to join the growing HR team and support the HR function.
Work in Financial Services
Temporary to Permanent Opportunity