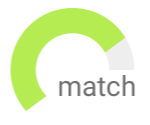 Haven't found the job you are looking for? Use our new smart new Job Match tool to find your next opportunity.
New York
Permanent
USD50,000 - USD55,000
The Communication Assistant will report directly to the CCO and CMO to provide administrative support to the Communications Department for a widely known not for profit organization located in New York City and Washington D.C.
Please note this job has an opening in New York City and Washington D.C.
In office 3 days a week.
New York
Temporary
USD60,315 - USD66,554
Our client is a leading consumer goods company that is seeking a Marketing Assistant with 2+ years working in marketing. This role will directly support the Trade Marketing team with daily tasks, projects, events, and activations. Previous experience in Events, Operations, or Trade Marketing is highly preferred for this role, specifically in CPG, Beauty, or F&B.

This role will be in office Tuesday to Thursday in White Plains, New York.
2-5 years experience in marketing
Must be able to commute to Westchester
Washington
Temporary
USD41,596 - USD51,996
Seeking a Communications Assistant to support the Director of Marketing and Communications at a leading non-profit organization. This role can be located in the Greater NYC or DC areas on a hybrid schedule (relocation is not available). This is a contract 6 month assignment, with the potential for a long-term opportunity.Candidate & applicants should be immediately available to begin.
6 months with the potential for permanency!
Must be located in NYC or DC areas
White Plains
Permanent
USD60 - USD65
A leading Food + Beverage brand is seeking a Marketing Associate for their Trade Marketing division. This role will support their Marketing Activations across all of their beverage brands and will support their Sales, PR, and eCommerce teams with the execution and development of marketing initiatives.

Please note, this is a hybrid position and candidates must be able to commute to White Plains, NY.
Must be able to commute to White Plains, New York
2 years of experience is preferred
Dallas
Permanent
USD65,000 - USD75,000
Leading regional homebuilder is looking for a Marketing Coordinator to work closesly with the Director of Marketing to help maintain and progress the growth in Texas for home projects ranging from $400k-$900k in value.
National Homebuilder with healthy pipeline
Competitive salary and career progression