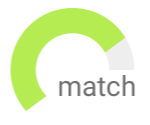 Haven't found the job you are looking for? Use our new smart new Job Match tool to find your next opportunity.
New York
Temporary
USD47,836 - USD51,996
Assist with work overflow as the Administrative Assistant for a well established law firm in NYC. This role requires someone who can work independently with little guidelines who will take initiative when getting work done.
Work an administrative position within a Law Firm
Hours require in office five days a week from 12pm to 8 pm.
Los Angeles
Permanent
USD50,000 - USD65,000
Support the LA office of a global recruitment firm. Wear many hats of an EA, OM, Event Planner, Sales Admin, and make this role yours.
Great Team
Wear many hats
The Office Coordinator, reporting directly into the Managing Director (MD) in the Los Angeles office, will be the glue, working as a right hand to the MD, setting up events/meetings, assisting with daily operations, and finding creative solutions to problems that may arise. This is an exciting role to work on a vibrant team and contribute to the growth of the LA office by directly supporting the employees and office to function successfully and smoothly.
National Law Firm is actively seeking a Legal Assistant for its Hartford, CT office to support attorneys.
Great company and location
Competitive Salary + benefits package
International
Permanent
USD80,000 - USD90,000
Office Manager role supporting Human Resource functions. This hybrid role allows you to wear many different hats.
5 days in office
Great team
Manhattan
Temporary
USD35,357 - USD51,996
A New York based finance firm is seeking an Administrative Coordinator to support their office. You will be the main point of contact for the office, answer initial phone calls and email, and be the gatekeeper for Executives. This role requires a completed Bachelor's Degree, in office 2x a week, and have previous experience.

Contract to hire.
Must be located in NYC
Two Days in-office
Miami
Temporary
USD29,117 - USD33,277
This job requires someone with previous administrative experience who is able to go in office five days a week. Must be fluent in English and Spanish.
This is a full time entry level position located in Downtown, Miami.
Great contract opportunity for administrative roles.
Miami
Temporary
USD29,117 - USD35,357
Take on an administrative role in Miami, FL. Must be fluent in English and Spanish.
An Administrative Assistant/Front Desk Receptionist role open in Miami, FL.
Must speak Spanish or Portuguese.