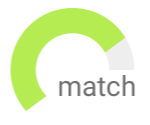 Haven't found the job you are looking for? Use our new smart new Job Match tool to find your next opportunity.
Wayne
Permanent
USD150,000 - USD165,000
This role will be responsible for building out the Talent Acquisition function at the organization. They will be responsible for strategy, full cycle recruitment(corporate functions), managing the relationship with their recruitment agency for hourly positions and more.
Newly created position with growing organization
Hybrid role
Manhattan
Temporary
USD58,235 - USD64,475
My client is looking to add a Contract Talent Sourcer who will focus on roles which include sales, customer success, HR, finance, marketing, and strategy and operations roles. Reporting to the Manager of People and Culture, you will help find and engage a diverse mix of qualified candidates to consider for our open roles.
Long term Temp Assignment
Potential Temp to Perm
Grand Prairie
Permanent
USD130,000 - USD155,000
This role is responsible for supporting the HR team on all Internal Communications for the organization. They will also be involved with Employee Engagement. This role is remote and can sit anywhere in the US.
Newly created position with growing organization
Remote
Boston
Permanent
USD90,000 - USD130,000
Are you looking for your next opportunity in a HR role as the HR Manager leading a team of 3? Do you have managerial experience in the Manufacturing industry? Do you have 5+ years of experience? Do you have a strong understanding of Oracle? If so, please read on and apply to the HR Manager - Manufacturing position located in the Greater Boston, MA area.
Publicly listed, rapidly growing, international manufacturing business
Hybrid WFH Schedule
New Jersey
Permanent
USD120,000 - USD160,000
Newly created role leading the talent acquisition team. Responsible for support their recruitment needs.
Remote Possibility
Rapidly growing tech startup growing company, great benefits!
Wayne
Permanent
USD140,000 - USD160,000
The HR Communications Manager will be a strategic leader within the organization in partnership with senior leaders to affect positive change for the culture for the employee population. You will have direct ownership over the building-of and ownership over internal communications orbiting the company's Mission & Values, awareness of current business strategies, and business tactics.
Opportunity to lead the roadmapping and implementation of communication strategy
Great benefits and the opportunity to strategize with senior leaders.
Hauppauge
Permanent
USD60,000 - USD80,000
Socially conscious construction company. Responsible to planning, directing, and coordinating functions that relate to the organization's employees.
Interesting and exciting industry!
Innovative company
Lincoln
Permanent
USD85,000 - USD100,000
We are working with a long standing, esltablished construction / manufacturing business based in Lincoln, RI to recruit a HR Manager on a permanent basis. The role could be the ideal next step for a Senior HR analyst looking to make a transition into a managerial role.
Mid sized construction / manufacturing company based in Lincoln RI
Newly created position due to growth
Delran
Permanent
USD65,000 - USD75,000
Our client, located in South Jersey, is seeking a Corporate Recruiter to join its growing team.
Seeking a Corporate Talent Acquisition
Growing Firm in South Jersey
Amesbury
Permanent
USD85,000 - USD95,000
Cutting edge international manufacturing business seeks highly proficient Senior HR Generalist, to progress through to HR Manager.
3 to 4 days in office; 1 to 2 days REMOTE
International manufacturing organization
Create job alert to receive Industrial Manufacturing jobs via email the minute they become available
Claremont
Permanent
USD110,000 - USD115,000
Human Resources Business Partner sought by large, international, NH based manufacturer.
Real opportunity to have an impact upon the businesses operations
5 days a week in-office (this is not a remote position)
Streamwood
Permanent
USD100,000 - USD130,000
Our client is in search for a Human Resources Manager located near Streamwood. My client has been around for over 100 years and have locations all across the US doing multiple Billions in revenue. They have a great history to them and are renowned in their space within the manufacturing industry. This role will be the leader for the site across all functions of HR overseeing 200+ employees. This HR Manager will be a key role with a voice reporting to the head of the location.
High-visibility strategic role owning the HR function
Growing, recession proof industry
Livonia
Permanent
USD200,000 - USD270,000
The HR Director Americas will oversee the Americas region responsible for the US, Mexico, and Brazil with a scope of roughly 1200 employees and 8 locations including 2 manufacturing plants. The HR Director will report directly to the CHRO based in Europe at global headquarters.
HR Leader driving change management
Reporting to the CHRO
Aurora
Permanent
USD150,000 - USD180,000
The Sr. Manager Total Rewards will report to the CHRO - Chief Human Resources Officer and have high visibility to the executive leadership team including the CEO. The Sr. Manager Total Rewards will be responsible for the overall strategy, development, and execution of the total rewards program. This person will ensure the organization is an employer of choice with all things benefits, rewards, and health and welfare.
Reporting directly to the CHRO
Highly visible and impactful role, hybrid schedule
Milwaukee
Permanent
USD90,000 - USD140,000
Our client for the Sr. HR Business Partner/Generalist opportunity is a global manufacturer and Fortune 1000 company. This organization has a highly reputable globally recognized brand and continues to grow and innovate their products. This person will be a part of the technology group supporting a large and important part of the organization's population.
Highly visible HR role with career growth
Working for a Global Manufacturing Leader
Downers Grove
Permanent
USD90,000 - USD140,000
The Sr. HR Business Leader will be a part of the technology group supporting a large and important part of the organization's population. The Sr. HR Business Leader will partner with business leaders to help drive people and talent strategies, talent development and succession planning, skills development, talent attraction.
Highly visible HR Leader role with career growth
Working for a Global Manufacturing Leader
Newburyport
Permanent
USD65,000 - USD70,000
Manufacturing business in Newburyport, MA seeks HR Generalist.
Work from home, up to 2 days a week
Based in Newburyport, MA
Charleston
Permanent
USD75,000 - USD90,000
Global Consumer Goods company seeking HR Manager to support all HR functions within the US.
Career Growth
Competitive Salary and Benefits