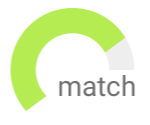 Haven't found the job you are looking for? Use our new smart new Job Match tool to find your next opportunity.
Develop pitches for new partner segments
Lead discussions with existing and prospective partners to determine market fit, size, and readiness for new product offerings
Delivery service of various fresh meat items
Area of rapid growth
The jobholder is responsible for contributing to the daily smooth running of the showroom, ensuring showroom standards are maintained to a high level and customer service is delivered through their ability to handle the public and deal with potential sales enquiries


Experience coordinating & managing a kitchen, bath, interiors design showroom
Experience interacting with and qualifying prospective clients
Los Angeles Metro Area
Permanent
The right candidate will define success by reducing the total cost in the organization while meeting/exceeding our retail partners expectations with regards to OTIF (On-Time In Full). This position will oversee and define all supply chain activities.This will include qualifying vendors, running trade studies, negotiating contracts and purchases, managing contracts, and overseeing vendor relationships.
Experience in the personal care space or cosmetic brands preferred
One of America's fastest growing private companies
Los Angeles
Permanent
USD170,000 - USD190,000
As Vice President Sales - North America, you will work closely with the Chief Revenue Officer and CEO to direct, implement & deliver commercial activity with retail partners to produce revenue growth.
Opportunity to work for a large high growth Global Beauty Brand
Competitive Salary and Benefits
My client is a global real estate development, investment, capital and property management company. They currently have over $50B office, retail, logistics, industrial, and residential properties. They are looking for a strong Senior Asset Manager (Logistics industrial portfolio) to join their Long Beach, CA team. Local experience preferred.
10+ years of experience working on a logistics industrial portfolio
Ability to commute to Long Beach, CA Office