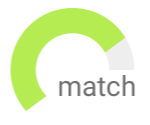 Haven't found the job you are looking for? Use our new smart new Job Match tool to find your next opportunity.
New York
Permanent
USD300,000 - USD301,000
The Managing Partner / Head of Investment will lead and oversee all stages of investment transaction-related efforts, including financial modeling and analysis, industry research, negotiation of investment terms, valuation analyses, and liquidity events. The Managing Partner will be joining a small team and working directly with the rest of the senior leadership team, portfolio companies, and our investors.
Must have curiosity about crypto and blockchain and network access to startups
Role can be in New York or California
New York
Permanent
USD175,000 - USD200,000
The IT Front Office Fixed Income and Equity Financing Specialist will be responsible for working with Repo and Stock Loan desks as well as FICC and Equity Trading and Sales teams.
Globally recognized leader in financial services!
Outstanding benefits and work environment
New York
Permanent
USD150,000 - USD151,000
The primary objective of this role is to deliver a competitive suite of targeted trade products for Corporate clients wishing to avail these services or book deals in the US. The role is accountable for delivering the product P&L, and includes end to end management responsibility for product strategy, innovation, development, commercialisation, and compliance of these products.


Deliver a competitive suite of targeted trade products for Corporate clients
End to end management responsibility for product strategy and innovation