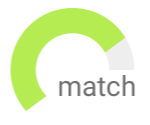 Haven't found the job you are looking for? Use our new smart new Job Match tool to find your next opportunity.
New York
Temporary
USD207,984 - USD226,702
You will be supporting the Infrastructure Debt Asset Management Function. The key responsibility will be monitoring the project investment performance in coordination with the Asset Management Support team.
Leading Investment Firm
Competitive compensation package
Jersey City
Permanent
USD200 - USD250
Director of Data Quality Rule within Regulatory Reporting focusing on defining and designing the effective regulatory reporting data quality rules for branch report, BHC report, CUSO report, and other processes surrounding data quality.
Director of Data Quality Rule within Regulatory Reporting
Opportunity to join an investment bank in NYC
Charlotte
Permanent
USD170,000 - USD180,000
This position is responsible for performing the weekly customer reserve (15c3-3) and daily net capital (15c3-1) calculation for the US Broker Dealer. It will also requires supporting projects related to new regulatory requirements and ad-hoc work.
Leading Broker Dealer in Charlotte, NC
15c3-3 and 15c3-1 Experience Required
New York
Permanent
USD275,000 - USD276,000
The North America Project Finance Group provides advisory, underwriting, structuring, and capital markets offerings to large corporations and financial sponsors. The Executive Director will be tasked with originating transactions within carbon capture and sequestration, renewable fuels, and new technologies, and managing their execution.
Ideal role for an experienced originator
Financing efforts for energy transition, new energies, and natural resources
Manhattan
Permanent
USD175 - USD185
The VP Regulatory & Corporate Compliance will act as SME of regulatory changes, implement team training's, and maintain the policy and procedures of the firm.
Opportunity to work at an international bank that services wholesale banking
Regulatory Compliance opportunity to work with the CCO and BSA/AML Manager
New York
Permanent
USD10,000 - USD160,000
Seeking an experienced candidate within Trade & Transaction Reporting, Middle Office, Compliance to provide control monitoring and oversight.
Top tier financial services firm
Team Leader position
New York
Permanent
USD200,000 - USD201,000
The VP of Investments will identify knowledge gaps, create staffing plans, and manage hiring and performance management for the investment team. He or she will create the strategy for buying and selling homes using a portfolio perspective and home valuation process.
This role can be fully remote
Develop algorithms, models and techniques for investment strategies
New York
Permanent
USD175,000 - USD176,000
This position will support Origination & Execution in deal preparation, pitching, execution, launching and pricing. His/her responsibilities will include deal due diligence, research, financial modelling, preparation for internal committee meetings, etc. The focus is on the execution of Investment Banking transactions from M&A to IPOs.
Chinese language skills preferred
M&A, private placements, IPOs, capital raises
A reputable local investment management firm is looking for an Investment Director/ Deputy Managing Director to oversee the investment activities in one of their two biggest funds.
Opportunity to work with top talents in the investment sector
Excellent remuneration package and unique incentive program
New York
Permanent
USD180,000 - USD181,000
In this position, you will originate and execute private and public debt and equity financings across numerous industries. You will work with bank debt, second lien debt, unitrache debt, mezzanine debt, and equity-linked securities for growth capital, LBOs, acquisition financings, and special situations.
Capital-raising for large, public companies and privately held companies
Originate, structure, and execute private and public debt and equity financings
Create job alert to receive Vice President jobs via email the minute they become available
New York
Permanent
USD160,000 - USD161,000
In this role, you will monitor credit performance of the Latin American project finance portfolio, consisting of power plants, offshore drill rigs and mines.
Manage exposures of power plants, offshore drill rigs and mines
Lead credit monitoring with the goal of identifying distress
Queens
Permanent
USD140,000 - USD150,000
Great Regulatory Reporting role with a leading investment bank. This role would sit in their Long Island City location and includes, but is not limited to, preparation and analysis of the quarterly, semi-annual and annual Regulatory Reports required by FRB, including FR Y-9C and Call Report.
Leading Investment Bank in LIC
Hybrid Schedule Flexibility
Los Angeles
Permanent
USD160,000 - USD161,000
The Vice President, Credit Risk & Portfolio Management will work within the Corporate and Investment Bank. This position will contribute to the growth and health of the portfolio by working as a liaison to clients and the business.
Credit underwriting and portfolio management of Media & Comm exposures
Work with RMs and positioned within the front office
New York
Permanent
USD170,000 - USD175,000
"Deposits" product SME who focuses on conducting key product/transaction data attribute validation testing to ensure US Regulatory Reporting to various regulatory agencies are prepared timely, accurately and with complete appropriate data.
Great opportunity at a leading banking institution.
Offers growth in a competitive field.
New York
Permanent
USD300,000 - USD500,000
This role will be a Head of Valuations role with dual reporting lines- CFO & Head of Merchant Banking. Looking for a talented and motivated valuation candidate whose seeking growth and stability within a firm.
Director of Valuations role - Ability to build out valuation team
Significant growth opportunity within a growing organization
New York
Permanent
USD200,000 - USD201,000
Our client is seeking an experienced professional to join their Platform Solutions function, which leads the implementation on product-related initiatives. This individual will partner with Investments, Sales, Marketing, Relationship Management, and Legal to advance projects.
Lead implementation on product-related initiatives to enhance product line
Identify and lead projects for enhancements to product features
The Regulatory Reporting group is looking for a lead analyst who will provide preparation and analysis of quarterly, semi-annual Regulatory Reports required by the regulators including the Federal Reserve Bank (FRB) and Office of the Comptroller of the Currency (OCC).
Great Finance Reporting Analyst role for a leading investment bank
Hybrid Schedule Flexibility in Tampa, FL
Our Client is seeking a candidate to work with the Head of Sales and Marketing who will collaborate with sales and marketing personnel located across Asia and Europe. Primary duties will include selling global equity and fixed income investment capabilities offered via separate account, mutual fund, ETF, and alternative structure.
Promote global equity and fixed income investment capabilities
Target pension funds, foundations, endowments, family offices
In this role, the Vice President will structure, underwrite, execute, and negotiate transactions as well as monitor a large portfolio of high growth companies. The ideal candidate has experience executing transaction from start to finish.
Option to be in Boston or San Francisco
Focus on providing financing to late stage companies
Tampa
Permanent
USD110,000 - USD130,000
The Risk Appetite and Limits Vice President will be responsible for:
Support the design and execution of enhancements to further align the banks risk appetite with strategic planning and capital stress testing processes
Lead execution of components of the book of work with timely and effective outcomes against regulatory and firm expectations
Escalate program risks, when appropriate
New role in a growing division
Diverse working environment
Manhattan
Permanent
USD140,000 - USD155,000
The Treasury Lead Analyst will require a broad understanding of banking activities and the impact of those activities upon the bank's balance sheet. Particular emphasis will be placed upon liquidity management of the US Bank. The Analyst will have the opportunity to work with areas of Treasury, Controllers, FP&A and FRSS.
Leading Investment Bank looking for a skilled treasury analyst
Hybrid Schedule Flexibility
New York
Permanent
USD115,000 - USD125,000
The Central PMO Assistant VP will have regional and international responsibilities. They will work closely with the Americas Head of Central PMO to gain lots of exposure and be placed in a position to grow with the company.

Email resume and a summary of your relevant experience to JennaDecembrino @ MichaelPage.US.com.
Hybrid Opportunity
Great Benefits
New York
Permanent
USD250,000 - USD251,000
This is a key leadership role for the Bank. In this position, the incumbent will source Leveraged Finance transactions within Technology and Telecom, and supervise their execution.
Originate and structure non-investment grade debt
Develop relationships with Technology and Telecom clients
New York
Permanent
USD250,000 - USD251,000
The objective of this role is to manage the business unit that services hedge funds and institutional clients within Sales & Trading, Cash Financing, Prime Brokerage, Liquidity, and Synthetic Financing. This is a leadership position.
Help bank meet objectives by maintaining operational safety and efficiency
Drive Human Capital planning and execution
New York
Permanent
USD150,000 - USD151,000
The Vice President, Corporate Banking, Media & Communications will be responsible for generating new business and help manage existing clients in the portfolio.

This role is hybrid, requiring 2-3 days in office.
Help marketing efforts and generation of new business
Actively sell banking products
New York
Permanent
USD200,000 - USD201,000
In this role, you will cover the growing infrastructure industry (including digital infrastructure, transportation, and social infrastructure), the power industry (including conventional power generation, renewable power generation, and storage), and new energies and natural resources sectors (including LNG terminals, midstream assets, and renewable fuels).
Focus on new energies, natural resources, incorporation of carbon capturing
Advisory, underwriting, structuring, and capital markets
Jacksonville
Permanent
USD150,000 - USD165,000
The VP of Regulatory Reporting with lead preparation, review, and submission of regulatory report filings with the regulatory bodies (i.e. FR Y-14M, FR Y-14Q, FFIEC 041, FRY-9C, FRY-9LP, FRY-12, FRY-15, FFIEC 009)
Assist in the development and implementation of regulatory report tools, report preparation, and corresponding controls processes
Exciting opportunity for a VP of Regulatory Reporting
Permanent position for Regulatory Reporting VP to join a top Investment Bank
New York
Permanent
USD175,000 - USD176,000
Our client is looking for someone coming out of a Real Estate Group in Banking or PE to originate new business.
Hybrid (in-office 2-3 days per week)
Originate of new business by providing credit and market analysis
New York
Permanent
USD150,000 - USD151,000
Our Client is searching for a Vice President to work in the southeast and Midwest regions. The successful candidate will be a dynamic individual with experience in developing relationships and providing financing solutions to the Life Science and Healthcare Technology markets.
Build relationships and providing financing to Life Science and Healthcare firms
Cover East Coast and Midwest United States
Miami
Permanent
USD500,000 - USD1,000,000
The Director of Investment Banking will serve as a key member of the firm's strategic and advisory practices, and will work directly with its managing directors, partners and stakeholders. The Director will play a lead role in originating and executing sell-side and buy-side transactions, including leading client interaction and managing the workflow across internal and external deal team.
Trusted adviser to providers in the early education
$5B of transactions across media, healthcare, education, real estate