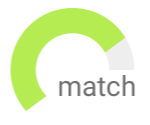 Haven't found the job you are looking for? Use our new smart new Job Match tool to find your next opportunity.
New York
Permanent
USD200,000 - USD250,000
The VP of Infrastructure will manage a team of 10. The firm is currently undergoing a platform transformation and this person will oversee moving the platform infrastructure from on-prem to cloud using the best practices and latest technologies.

This role is based in NYC and will require a schedule of 4-5 days a week in office.
AdTech firm going through exponential growth
Seeking VP of Infrastructure to oversee team of 10
New York
Permanent
USD190,000 - USD210,000
The Director of Operations will oversee and direct the IT Operations Team. They will supervise the resources and activities of the IT Department, administer the day-to-day IT operations, and maintain the infrastructure components, security, and resilience to support the business operations.


Hybrid Opportunity
Great Benefits
New York
Permanent
USD130,000 - USD150,000
Analyst will be sitting on the Credit Risk team and reporting to the Chief Credit Officer. The analyst will be expected to define and implement CECL methodology.
Modeling Analyst role at top American bank
Reporting to Chief Credit Officer
New York
Permanent
USD160,000 - USD190,000
Our client, a top 50 AML Firm is seeking a FP&A Director to partner with the CFO and build out the FP&A function. This is an great opportunity to work for a well-established firm who continues to grow internationally and nationally.
International Law Firm
Opportunity to work Senior Partners and Finance Leaders
This role will be responsible for helping grow out their team in NYC.
Start up consumer goods company
First hire in HR
Responsible for the timely delivery of high quality, value added audit reports for a portfolio of treasury activities, which meet the requirements of this global banks board and of the banks respective regulators, globally.
Hybrid remote opportunity due to Covid - 19
Organization is growing out its internal audit department
New York
Permanent
USD150,000 - USD175,000
A leader will provide strategic direction over the end-to-end purchasing, replenishment, forecasting and allocation process of inventory across seasonal and basic replenishment goods across the clients Brands portfolio.
Direct Hire Opportunity!
Hybrid work environment -- NYC Office
New York
Permanent
USD22,000 - USD400,000
The Senior Director of Privacy will report directly to the Chief Privacy Officer of a financial services institution, and will be responsible for defining and executing the enterprise privacy program. This is a high-level, mission critical role that requires SME in privacy laws and regulations.
Reporting directly to Chief Privacy Officer
Role is integral in developing global privacy strategy and execution
Manhattan
Permanent
USD145,000 - USD175,000
Our client is seeking an experienced professional who is looking to work directly with the firm's FCC lead in a fast paced environment. This person will assist directly with policies relating to ABC, AML, and sanctions.


Client will move quickly with qualified candidate.
Opportunity to join a dynamic compliance department.
New York
Permanent
USD170,000 - USD215,000


The Director of Infrastructure Services will help plan, design, implement and operate the organization's core technology infrastructure. This person will use their extensive experience designing and operating technology solutions that enable and enhance the enterprise.

This role will operate on a hybrid structure of 3 days in office and 2 days remote.
Growing IT Infrastructure Team
Seeking Director
Create job alert to receive Vice President jobs via email the minute they become available
The Director of Yield Optimization will be responsible for managing the search optimization, publisher's traffic quality and data teams.The successful candidate will demonstrate a strong interest and understanding in data analytics, internet technologies and optimizing advertiser and publisher yield. This is a complex and analytical position in which creativity and flexibility are required to find optimal solutions.
Growing Search Marketplace
Seeking Director of Yield Optimization
In this role, you will support the team by conducting credit analysis of both existing clients and new wholesale banking opportunities. You will manage the production of financial models, handle complex negotiations, and help sources new deals.
Arrange debt financing for companies in transport, energy, water, greenfield
Cover North and South America
Lead US supply chain team and coordinate with cross functional teams (including technical, quality, regulatory, business development and marketing) in both US and China to ensure steady drug supply for the global commercial sales. This position can be based remotely with a preference on the east coast (NY, Boston, Maryland)
Global biologics company focused on oncology, inflammatory and metabolic disease
Looking for a global supply chain leader with experience in CMO/CRO management
Be a integral member of the Bank to help drive the global ESG and sustainability strategy. The key function will be to support the bank's institutional clients to achieve their sustainability and ESG-related goals by providing market intelligence on relevant products or services.
Be a member of the ESG and Sustainability Strategy of the Bank
Support clients of the bank with achieving their sustainability goals
You will be responsible for optimizing the customer journey and for driving adoption of platform by developing customer-facing and internal processes and building, structuring and mentoring a team to support these initiatives.
Join a Growing Organization!
Strategize & Implement Strategy for CS function
New York
Permanent
USD180,000 - USD181,000
In incumbent will manage a portfolio comprised of US corporate clients. The primary exposures include Autos, Aircrafts, and Metals & Mining.
Autos, Aviation, and Metals & Mining
Review credit requests and produce CAG commentary
New York
Permanent
USD180,000 - USD200,000
Director of IT Operations for a leading financial service company.

Email resume and a summary of your relevant experience to MadisonHaberl @ MichaelPage.US.com.


Opportunity for growth.
Opportunity to work for a leading financial service company.
New York
Permanent
USD140,000 - USD160,000
The VP, Financial Model Management is responsible for a first-line framework, governance, and controls activities for the model life cycle.
Leading Investment Bank
hybrid work environment
Manhattan
Permanent
USD140,000 - USD160,000
The VP, Finance Model Officer will be an integral member of the Finance Managment Group. They will focuses on the safety of sound model landscape practices through comprehensive first-line framework, governance and controls activities, including the formulation of the strategy across the Model Life-Cycle.
Leading Investment Bank with competitive base pay, bonus, and hybrid environment
Grow skillset within the Financial Model Risk Management
New York
Permanent
USD100,000 - USD175,000
Globally recognized bank is looking to add an additional AVP and VP to the new internal audit department.
Opportunity to join a new internal audit department that is in growth mode
Opportunity for audit exposure across all lines of business
New York
Permanent
USD125,000 - USD200,000
Global bank's internal audit department is looking to add an additional VP of Model Risk Audit to the New York team.
Global bank recognized for having one of the most flexible work environments
Opportunity for exposure across all areas of model risk/validation/development
Manhattan
Permanent
USD120,000 - USD140,000
Our client is seeking a highly qualified individual to work directly with the general council in all corporate governance and SEC filing related matters. This person is a self-starter, and will regularly interact with a variety of business entities within the firm.
Client will expedite the process for a qualified candidate.
Opportunity to join a top financial institution.
New York
Permanent
USD150,000 - USD175,000
Our client is seeking a compliance professional that will oversee their enterprise-wide derivatives advisory compliance within Federal, State, and non-US financial controls and regulations.
Opportunity to join a prestigious global investment banking firm.
Client will move quickly with the qualified candidate.
New York
Permanent
USD110,000 - USD200,000
International banking firm seeks 5+ years of experience in Reg Reporting or Banking Background
Competitive compensation
Opportunity for growth in well established firm
New York
Permanent
USD200,000 - USD300,000
Leading national Developer is seeking a highly motivated professional to oversee the implementation on all portfolio capital projects, from land due diligence and entitlement through planning and construction. The ideal candidate is professional, highly organized, collaborative and creative, and has a track record of successfully delivering high-quality projects on time and within budget.


Leading National Developer seeking motivated leader to oversee project portfolio
Entrepreneurial environment with huge growth potential for career advancement
New York
Temporary
USD155,988 - USD207,984
Seeking an experienced, VP level candidate within Treasury Operations to manage and oversee bank account opening, payment processing, SWIFT messages, and settlements.
Top tier investment management firm
Long term contract with potential to convert permanent
New York
Permanent
USD300,000 - USD550,000
Very exciting opportunity for a candidate to join top tier investment bank as a VP of Legal. The candidate will provide legal guidance and support to the firm on a broad array of venture capital investment management-related legal initiatives. Reports directly to CEO. This role can sit in NYC, San Francisco or Miami.
Exciting opportunity to join Investment Bank's family office arm
Advise on early stage investments, including VC funds
New York
Permanent
USD126,000 - USD141,000
In this role, you will be accountable for targeting local businesses in New York and urging them to continue their growth in New South Wales. By attracting investment capital from overseas, you will continue to build on the strong foundations of the NSW Economic Blueprint.
Drive trade and investment attraction activities for New South Wales
Targets local and global businesses in the Us to drive investment for NSW
New York
Permanent
USD160,000 - USD180,000
Market Risk management professional supporting the firm's Market Risk function by providing comprehensive risk analysis
Support a wide range of the market portfolio, including debt, fixed income and FX products
Flexible hybrid working schedule
Exciting opportunity at large international bank for market risk professional
Great potential for growth in newly created risk team
New York
Permanent
USD115,000 - USD145,000
Market Risk AVP/VP responsible for assisting the team with the Spread Products business
Work closely with the trading desks and risk managers to calculate and explain VaR changes, stress tests, limit usage and various risk sensitivities
Exciting opportunity at large, publicly-traded international bank
Excellent exposure to front office traders and various risk teams