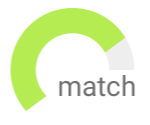 Haven't found the job you are looking for? Use our new smart new Job Match tool to find your next opportunity.
Allentown
Permanent
USD70,000 - USD100,000
Support general accounting and related general ledger functions pertaining to ensure timely and accurate financial reporting. Assist in interpretation and analysis of financial results and budget/forecast variances related to the balance sheet and direct/indirect cost of services. Maintain accounting policies and procedures. Document, assess, and implement internal controls as needed in conjunction with Sarbanes-Oxley.
Opportunity to work with company experiencing massive growth
Excellent opportunity for career advancement
Bethlehem
Permanent
USD75,000 - USD85,000
This job covers a variety of areas from project management, year end audit, G/L work and other duties as requested by management. This job requires strong attention to detail, ability to multi task and work in a fast paced environment and work as a team.
Company is growing rapidly and offers opportunity to advance
This employer puts a strong value on the employees, and promotes from within.
Philadelphia
Permanent
USD100,000 - USD150,000
Controller is responsible for directing the financial activities related to the operation. This is a key leadership and technical role within the manufacturing and supply chain activities of the business. A cost and control focus coupled with communicating results and proposed corrective actions are critical.
Passionate about building a best in class accounting team
Innovative opportunity implementing challenging solutions
King of Prussia
Permanent
USD130,000 - USD140,000
The Director of Accounting will oversee all of the corporate accounting within the firm's business and manage the accounting team. The logitsitcs firm is one of the largest players in their space, and has grown exponentially over the past few years. The Accounting Director will be a pivotal player in working with internal & external auditors, overseeing all business unit functions, and building a strong team.
Exciting growth opportunity
Dynamic work environment
Allentown
Permanent
USD122,000 - USD148,000
The Commercial Finance Manager will be supporting the NA Online Retail Division. Primary focus will be on analysis and reporting of monthly results, forecasting and budgeting, and general financial analysis to support the business. Solid knowledge of finance and accounting, preferably with experience related to retail sales, consumer products, manufacturing and exposure to product pricing/costing required. Reports to the SVP of Finance in North America.
Great opportunity with expanding Distribution firm
Business Partner Strategic Finance Role
Warrington
Permanent
USD130,000 - USD185,000
The successful candidate will manage all financial tasks for the organization and maximize the return on assets by establishing financial policies, controls, and reporting systems. Timely identification and communication of risk is imperative as well as ability to be able to lead organization to understand financial implications of decisions and situations.
Great opportunity for growth-oriented accountant in a global company
Established quickly growing Pharma firm
Malvern
Permanent
USD80,000 - USD115,000
Managing the firm's global capital market activities, cash forecasting, rating agency relationship management, global hedging programs, Cap-ex planning, customer credit and working capital management. Active participation in FX derivatives, interest rate derivatives, debt offerings, and global FX heding programs.
Global Tier 1 Life Science firm growing like crazy
Int'l Life Science firm in Philly suburbs seeking the area's top talent
The Area Manager has complete ownership of S,Q,D,I,P metrics across multiple departments and shifts. The Area Manager will lead direct and indirect labor employees involved in the manufacturing of a process area.
Are you seeking a hands-on & fast paced opportunity?
Potential for growth and ability to "own" your role
This Maintenance Engineer will be responsible for collaborating and participating in operations and maintenance jobs, developing and executing preventive, predictive and corrective maintenance activity programs, as well as providing technical support to the Maintenance and Operations Department in continuous improvement activities. The Maintenance Engineer will promote ongoing improvement in equipment and administrative procedures.
This plant produces 1.4 million tons of limestone each year
Innovative PC/PLC control concepts form the core of this plant
An AS9100 certified Aerospace Manufacturing Company specializing in the fabrication of metal bonded and sheet metal assemblies is seeking a full time Quality Manager.
Huge career growth opportunity
Grow and build a team underneath yourself
Create job alert to receive Industrial Manufacturing jobs via email the minute they become available
Erie
Permanent
USD80,000 - USD90,000
Field Service Engineer with 50% travel
Career growth and advancement
Increase salary
The Customer Operations Specialist performs customer service activities for internal and external customers. This person will be technically knowledgeable of the site's products, services and local processes and be able to use that understanding to provide solutions to customer requirements.
Bachelor's degree in engineering, business or a related field
5+ years of experience in medical device or related field