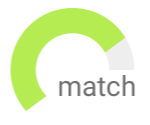 Haven't found the job you are looking for? Use our new smart new Job Match tool to find your next opportunity.
New York
Permanent
USD65,000 - USD80,000
Competitive sales culture in the heart of NYC
World Class training Program
Uncapped earning potential coupled with an organic, merit-based promotion model
Performance based Promotions and clear career trajectory
New York
Permanent
USD65,000 - USD75,000
Hybrid work schedule with Remote Capabilities

Diverse and Inclusive work culture in NYC office
Globally Established Recruitment Firm
Uncapped bonus potential with world class training and development.
New York
Permanent
USD115,000 - USD130,000
Manage and optimize the sales planning processes, systems and tools that support sales functions and sales analytics. This role will report to the Sr. Vice President of North American Commercial Sales for all channels including Canada. This person will work in partnership with the Sales, Marketing, Brand, Customer Service and Finance teams. We are seeking an experienced individual to help us increase the effectiveness and impact of our sales organization.
NYC or NJ Office!
Competitive Pay + Benefits
Our Client is seeking a candidate to work with the Head of Sales and Marketing who will collaborate with sales and marketing personnel located across Asia and Europe. Primary duties will include selling global equity and fixed income investment capabilities offered via separate account, mutual fund, ETF, and alternative structure.
Promote global equity and fixed income investment capabilities
Target pension funds, foundations, endowments, family offices
New York
Permanent
USD180,000 - USD200,000
Research and execute on new business and acquisition opportunities.
Global general trading company
Strong culture
New York
Permanent
USD300,000 - USD330,000
Our client is looking to recruit an Investor Relations / Fundraising candidate to be based in New York whom has Rolodex in the US of institutional clients such as pension funds, and ideally understands China investments strategies.
Strong US Institutional Client base
Identify and develop new relationships to complement the fund's ecosystem
New York
Permanent
USD150,000 - USD170,000
The Head of Demand Generation will own the growth marketing/demand generation channel strategy and campaign execution for paid search, paid social, organic search, and other lead generation campaigns. Reporting directly to the CMO, this person will be a team leader and collaborate with sales on pipeline strategies and strategize for all virtual and in-person events.
Join a global company with a startup culture and a collaborative team
Work-life balance, and exciting growth opportunities!