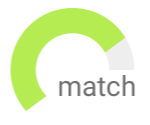 Haven't found the job you are looking for? Use our new smart new Job Match tool to find your next opportunity.
Chicago
Permanent
USD120,000 - USD140,000
The Sr. Marketing Manager will be a part a very strong marketing team working with product development and innovation, design, web and e-commerce, consumer insights, and many more working to drive marketing communications and brand campaigns working from ideation to execution. The Sr. Marketing Manager will agency partners and drive B2C (business to consumer) and dealer marketing (B2B2C) activities and campaigns.
Marketing Leadership role for growing CPG company
Strong career growth and progression, hybrid role
Boston
Permanent
USD90,000 - USD120,000
The Digital Marketing Manager will execute innovative customer digital programs to drive demand and B2B lead generation in the life sciences/healthcare space. The primary role of this position is to work with the commercial teams, as well as external vendors, to execute a global marketing strategy across primarily digital platforms.
Generous Base Salary
Bonus structure
New York
Permanent
USD90,000 - USD120,000
This is an important hire for a fast-growing company. Reporting into the Head of Marketing, you'll work with a multi-functional, fast-growing team.
Room to grow
Competitive Base
Chicago
Permanent
USD85,000 - USD115,000
The Marketing Manager will report to the VP of Sales and Marketing and be responsible for Digital marketing with a focus on content, pay per click, SEO, lead generation and managing external marketing firm partners. The goal for this person to build and manage the Digital Marketing team. This role is Hybrid/Remote coming to the office as needed.
Global Manufacturer of Hardware and Software IoT and SaaS Solutions
Hybrid/Remote role in the Greater Chicago area
New York
Temporary
USD51,996 - USD60,315
This opportunity is a great start for someone with experience in email marketing. This position would work closely with the Senior Graphic Designer and Director of Communications.
Remote opportunity.
Large non-profit opportunity.
This position is hybrid remote 3 days a week and in office 2 days in Sudbury, MA. This client is looking for someone that has experience in the web design and digital marketing/social media experience.

This position is a true temp to perm position, starting off temporarily for a month and eventually converting to a permanent role based on performance.
Digital Marketing Specialist role hybrid 2 days a week in Sudbury, MA
Temp to perm position with extensive room for growth
New York
Permanent
USD145,000 - USD170,000
As a Digital Engagements Marketing Manager, you will drive adoption and increased usage of their digital products and features across online banking and mobile apps. In this newly created position, you will develop and manage cross channel campaigns which engage and nurture customers across their buying and use journeys.
Lead customer acquisition and retention programs through digital engagements.
Develop nurture campaigns which support the customer journey.
Los Angeles
Permanent
USD165,000 - USD180,000
Michael Page have partnered with a fast growing company who is looking for a Director of Growth Marketing to join their talented and collaborative team. You will be responsible for driving the digital initiatives, driving rapid direct-to consumer growth and best-in-class customer experience. You will own site strategy, acquisition/retention, digital merchandising, and online shopping journeys.
Fast Growing Company
Strong Leadership Position
New York
Temporary
USD145,588 - USD166,387
Seeking an experienced, creative-minded client marketer to develop innovative multimedia ideas and presentations for current and prospective clients, as well as to create category toolkits such as sponsorship materials and case studies. The right candidate will be someone who isn't afraid to work tirelessly to find new, creative ways to help our clients and to unite various teams to achieve these goals.
6+ Month Contract Role
Huge, Global Media Company!!!
New York
Permanent
USD63,000 - USD95,000
The Associate Manager of Digital Performance Marketing, will be responsible for driving marketing ROI for assigned Lines of Business and managing paid social media budgets and/or SEM budgets plus leading the paid digital strategy inclusive of programmatic buying managing the partnership specific to the LOB.
Join an international bank on their growing marketing team
Remote role focused on performance of the paid media programs
Create job alert to receive Marketing jobs via email the minute they become available
Davie
Permanent
USD60,000 - USD80,000
This position will work in coordination with the senior management and third-party digital marketing agencies to ensure that the brand is creatively and consistently portrayed to my client's demographic.
Room to grow
Competitive Base
Florida
Permanent
USD75,000 - USD85,000
The Marketing Automation Specialist/Manager will be the go-to person for all Pardot related initiatives. They will work cross functionally with marketing, sales, and business operations team to create strategic and engaging campaigns.
Opportunity for Manager title for candidates exceeding minimum qualifications
Point person for marketing automation, reports to the Director of Marketing
Santa Monica
Permanent
USD140,000 - USD160,000
This is an exciting opportunity for a data -driven Digital Director with a fast growing cosmetic brand. You will be integral in leading a growing, dynamic digital team and be responsible for all digital, Ecommerce and social media activity for North America.
Fast Growing Company
Collaborative Culture
New York
Permanent
USD60,000 - USD70,000
The Social Media Associate will work with the Director of Digital Strategy to update social media platforms at a well known not for profit organization located in both New York City and Washington D.C.
Please note this job has an opening in New York City and Washington D.C.
In office 3 days a week.
Public Policy writer | Content Analyst | Vision 2030 Government Project | Riyadh
Vision 2030 Government entity | Riyadh
New Project, Policy editor, Government, Working in Start up environment
Manhattan
Temporary
USD60,000 - USD70,000
This role is for a leading cosmetics brand that is seeking an E-Merchandising Manager that will lead day-to-day strategy and implementation of key web pages and all products. This role will require working closely with cross-functional teams and additionally manage external agencies.
Contract to Hire Opportunity
Hybrid Job Opportunity
New York
Temporary
USD41,596 - USD45,756
Work along side a team to create finance content for TikTok! A social media opportunity.
Opportunity to help create social media content.
New York City
Simi Valley
Temporary
USD70,000 - USD80,000
Michael Page has partnered with a global beauty brand who is currently looking for an Ecommerce Manager to develop, implement, track and optimize their digital marketing ecommerce sales.
Established Brand
Great Culture