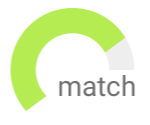 Haven't found the job you are looking for? Use our new smart new Job Match tool to find your next opportunity.
Los Angeles Metro Area
Permanent
The role is a pivotal position in a rapidly growing global partnership program. You'll be joining one of the leading brands in cosmetics and will have an impact in shaping the future growth of our business. You will be focused on establishing growth in sales with existing relationships and new to take our brand to the next level.
Provides clear path of career growth within the Beauty/Cosmetics Industry
Hybrid work opportunity, amazing health benefits, PTO and 401K
Los Angeles Metro Area
Permanent
MPI does not discriminate on the basis of race, color, religion, sex, sexual orientation, gender identity or expression, national origin, age, disability, veteran status, marital status, or based on an individual's status in any group or class protected by applicable federal, state or local law. MPI encourages applications from minorities, women, the disabled, protected veterans and all other qualified applicants.
Extensive Pipeline of Projects
Top of the line compensation package, profit sharing, bonus, 401k and Health
Minneapolis
Permanent
USD150,000 - USD200,000
This General Contractor is based in the Twin Cities area, and averages around $200M in revenue. They are well known for offering diverse project types, and a family first culture to cultivate teamwork and support for their 100 employees. This firm is seeking a Project Director who thrives within a leadership position who will be able to provide insight on how to expand their business.
$150k+ base salary with additional monetary incentives.
Director role with a well known and respected general contractor in Twin Cities
The Logistics Director North America is accountable for optimizing the company's supply chain transportation, warehousing and importing processes and developing a capable organization of Distribution, Warehousing, and Importation professionals to meet our business' performance expectation for safety, quality, service and cost.
Highly strategic role with a globally operating company
Opportunities for career growth and personal development
The Senior Director of Manufacturing has the overall accountability to lead the production, distribution operations and facilities for one of the largest facilities across this organization.
Global, market leading consumer products organization
Excellent opportunity for career growth
Phoenix
Permanent
USD150,000 - USD200,000
Collaborate with leadership and Project Managers to ensure organizational goals are being met on time and efficiently. Execute best practices as a team leader to ensure all members of team are working effectively.
Nationally ranked builder with excellent culture/work-life balance
High end base salary with great bonus incentives
This role will be responsible for helping grow out their team in NYC.
Start up consumer goods company
First hire in HR
Connecticut
Permanent
USD90,000 - USD110,000
Function as Director of Survey for Civil Engineering projects.

Lead a team of architects, engineers, and other construction professionals.
Looking to join a great team in a reputable Civil Engineering Firm
Looking to take on a Director Level position
Corporate Governance Director to develop and deliver the Authority's corporate governance framework in line with the applicable Saudi Governance Regulations.
Exciting role with a Governmental entity, Saudi Vision 2030 project
Start-up Governmental entity commissioned by the Royal Decree
Responsible for the timely delivery of high quality, value added audit reports for a portfolio of treasury activities, which meet the requirements of this global banks board and of the banks respective regulators, globally.
Hybrid remote opportunity due to Covid - 19
Organization is growing out its internal audit department
Create job alert to receive Vice President jobs via email the minute they become available
International
Permanent
USD130,000 - USD140,000
The Director of Operations plays an important role in sourcing, developing, manufacturing, and delivering top quality wellness products to our customers.The director is highly strategic and analytical and will work in a highly cross-functional manner with our Finance and Marketing teams.
High level Operations Leader needed for a fast growing CPG Company.
Competitive base salary plus equity, 4 weeks PTO, and full benefits!
Andover
Permanent
USD200,000 - USD240,000
The individual in this role will be responsible for the development of analytical methods to characterize both products and to ensure that these methods will be implemented to meet the quality, integrity, and efficiency standards.
Join a biotech company with an advancing portfolio in viral immunotherapies
Exciting opportunity to join a fast growing company
Canton
Permanent
USD150,000 - USD250,000
You are responsible for developing and executing the supply chain planning process to ensure both clinical & commercial drug product availability based on forecasted requirements. The position also serves as the lead and primary point of contact for all cross-functional activities at the manufacturing sites and ensures contractual commitments are complied with by both parties.
Manages the relationships and activities with all CMOs
Help to create a world where no cancer patient ever runs out of options
Boston
Permanent
USD190,000 - USD220,000
The Director/Sr Director, Regulatory CMC Biologics will oversee Regulatory Affairs and provide strategic input for CMC team activities for the development of submissions content and strategy for biological and cell and gene therapy products.
Opportunity to join a high growth, publicly traded biotech organization
Own Regulatory CMC for diverse portfolio of biologics and CGT products
Thousand Oaks
Permanent
USD150,000 - USD165,000
The Associate Director will lead new product commercialization including product positioning and promotional strategies as well as adaptation of successful products from other global markets. They will provide strategic direction for all marketing initiatives including advertising, promotions, packaging, and sales.
Outstanding High Level Marketing role with global CPG company!
Competitive base salary, flexible work life balance, and full benefits.
Lawrence
Permanent
USD200,000 - USD220,000
Exciting opportunity for a seasoned QA leader, who has worked in a clinical trial material/sterile fill-finish pharmaceutical manufacturing and laboratory environment. The Director of QA is responsible for day to day operations and functions as the subject matter expert on the Quality Management System.
Join an expanding CDMO supporting Phase I, II, & III clinical studies
Become the QA Head of a highly dynamic team.
As a VP technology, reporting into the Country Head you will be leading and building a Product development team and will be responsible for several business operation functions such as Governance, Asset Management, Client Engineering & Operations, DevOps, IS Marketing & Communications, Project Management as well as lead the strategic initiatives around the deployment and adoption of the digital transformation.
Looking for candidates with exp in healthcare intelligence and analytics
20+ years of leadership experience is product companies is preferred
Chicago
Permanent
USD150,000 - USD175,000
Work for a company that values their employees and is valued in their community. This General Contractor is looking for a Project Executive to come on-board to help build out their team, and eventually become a partial owner once the President retires in 5-7 years.
Possibility of Future Ownership with Progressive GC
Grow within this company that focuses on office and medical interiors
Atlanta
Permanent
USD120,000 - USD160,000
Michael Page has partnered with a fully integrated development firm looking to add a Director of Land Development to their Atlanta office. You will be working on land in both ATL and FL with the support of several experienced Project Managers.
Urgent hire!
Opportunity for internal advancement
New York
Permanent
USD150,000 - USD175,000
A leader will provide strategic direction over the end-to-end purchasing, replenishment, forecasting and allocation process of inventory across seasonal and basic replenishment goods across the clients Brands portfolio.
Direct Hire Opportunity!
Hybrid work environment -- NYC Office
New York
Permanent
USD22,000 - USD400,000
The Senior Director of Privacy will report directly to the Chief Privacy Officer of a financial services institution, and will be responsible for defining and executing the enterprise privacy program. This is a high-level, mission critical role that requires SME in privacy laws and regulations.
Reporting directly to Chief Privacy Officer
Role is integral in developing global privacy strategy and execution
Naperville
Permanent
USD140,000 - USD200,000
A leading privately held Global Food and Beverage Distributor. They are have been around for almost 100 years and have continued to grow. They have very strong financial backing and big plans for the future hence the need for a Transformational Director of Distribution Center Operations to run two of their DCs.
Exciting, transformational role
Growing organization with great financial backing
Los Angeles Metro Area
Permanent
USD140,000 - USD180,000
The Director of Regulatory Affiars will be responsible for being the regulatory expert in keeping the company compliant with regulatory requirements pertaining to OTC, Dietary Supplement, Homeopathic, and Cosmetic product categories.
Hybrid Schedule
Up to $180k comp
Manhattan
Permanent
USD145,000 - USD175,000
Our client is seeking an experienced professional who is looking to work directly with the firm's FCC lead in a fast paced environment. This person will assist directly with policies relating to ABC, AML, and sanctions.


Client will move quickly with qualified candidate.
Opportunity to join a dynamic compliance department.
Develop the short and long-term Development Strategy in line with the overall mandate, with a particular focus on creating a thriving community.
Establishment and continuous refinement of product positioning for the master plan across the design process, project development and delivery activities.
Opportunity to work on a large conservation project
Work alongside a team of world class development professionals
Develop the short and long-term Development Strategy in line with the overall mandate, with a particular focus on creating a thriving community.
Establishment and continuous refinement of product positioning for the master plan across the design process, project development and delivery activities.
Multibillion-dollar greenfield mixed-used masterplan
Work alongside a team of world class development professionals
Rockville
Permanent
USD150,000 - USD200,000
$150,000 - $180,000 Base + Bonus + Benefits!
Manage multiple projects, project teams and construction operations!
Successful, established Owner/Developer with a healthy pipeline of projects!
$150,000 - $200,000 Base + Bonus + Benefits!
Manage multiple development projects for a successful Owner/Developer!
New York
Permanent
USD125,000 - USD160,000
The Director of Business Development is responsible for overseeing and building out the business development team. This role is also heavily focused on relationship management, with a strong emphasis on being a strategic collaborator with our prospective partners.
Outstanding team culture
Fully REMOTE work
International
Permanent
USD180,000 - USD181,000
Working for this pharmaceutical client in Somerset, NJ you will be leading global internal audit department, including heading up the annual SOX compliance assessment on behalf of management and performing a large range of other audits. As the the Director of Internal Audit you report findings back to VP and CFO of finance as well as audit committee.
Chance to build out entire Audit Department
Working for an industry leading health and pharma company
Houston
Permanent
USD90,000 - USD150,000
All consultants at Michael Page operate in 360 degree roles, proactively headhunting candidates while developing and establishing new business relationships. This position consists of a base salary coupled with uncapped financial earning and career potential that is second to none.
Unlimited Commission
Growing Team - Galleria Based